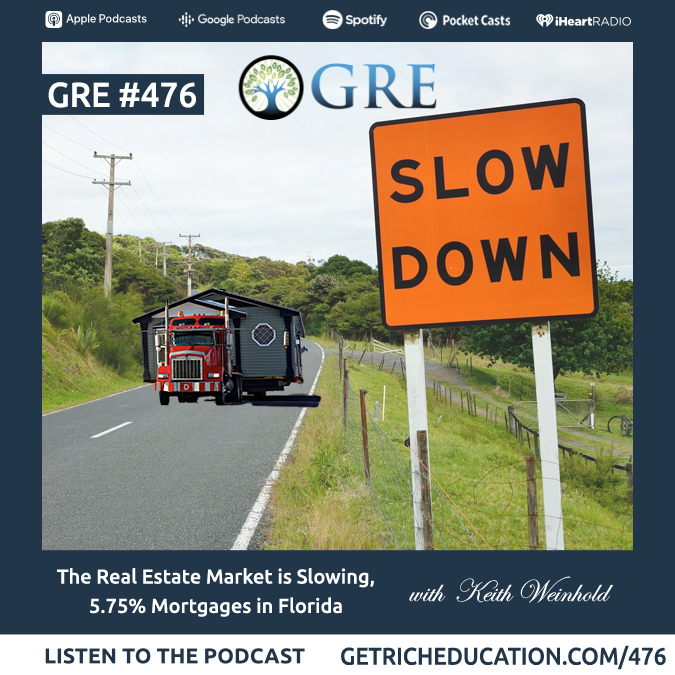 Join our free Florida income properties webinar on Monday, November 27th for 5.75% mortgage rates at: GREwebinars.com
Home prices are up 4.5% annually through Q3. It's the fastest growth rate in months.
Three out of ten renters are now age 55+, the most ever. Older renters are good for you: lower turnover, more quiet, more savings & income, and lower regulation compared to assisted living.
Overall US population growth is slowing, from 1.2% a generation ago to 0.5% today. It's expected to grow until 2080.
I discuss the DOJ crackdown on the NAR and real estate commissions. 1.6 million real estate agents could lose their jobs.
Apartment building rate caps have become super-expensive.
One of our real estate Investment Coaches, Naresh, joins us from Florida.
Naresh tells us how to get 5.75% mortgage rates on new-build Florida income property at GREwebinars.com
Resources mentioned:
Show Notes:
Join our Florida properties webinar, free, 
Nov. 27th at 8:30 PM ET at: www.GREwebinars.com
For access to properties or free help with a
GRE Investment Coach, start here:
Get mortgage loans for investment property:
RidgeLendingGroup.com or call 855-74-RIDGE 
or e-mail: info@RidgeLendingGroup.com
Invest with Freedom Family Investments. 
You get paid first: Text FAMILY to 66866
Will you please leave a review for the show? I'd be grateful. Search "how to leave an Apple Podcasts review" 
Top Properties & Providers:
GRE Free Investment Coaching:
Best Financial Education:
Get our wealth-building newsletter free—
text 'GRE' to 66866
Our YouTube Channel:
www.youtube.com/c/GetRichEducation
Follow us on Instagram:
Keith's personal Instagram:
You're listening to the show that has created more
financial freedom
for busy people than nearly any show in the world.
Wealthy people's money either starts out or ends up in real estate. You need to become an investor, but you can't lose your time. Without being a landlord or flipper, you learn about strategic passive real estate investing to create generational wealth.
Become educated about real estate investing with GRE's 1-hour video course: Real Estate Pays 5 Ways.