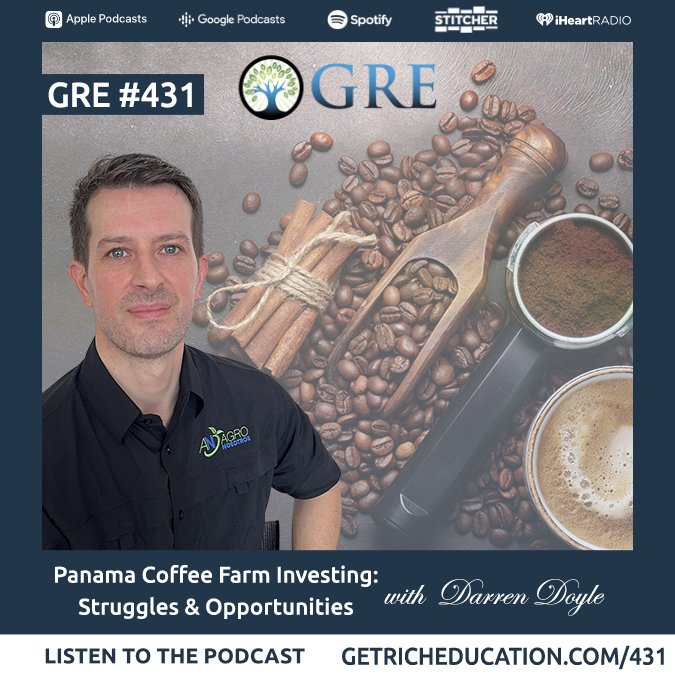 What happens when a real estate investment goes sideways? 
An international business was impacted—Panama coffee farms.
The pandemic disrupted coffee supply chains and labor. Erratic weather affected crop yields.
It's been about four years since we've discussed this on the show. 
The Panamanian government shut down many businesses. There was little or no government assistance for idled workers. 
The co-founder explains Panama coffee problems and opportunities.
Learn why the coffee parcel deed issuance has been slow for investors.
There's a new distribution partner going forward, named Typica. They help sell the coffee.
This is all high-end, specialty coffee, like the geisha variety.
Coffee farm parcels are in the volcanic soil highlands of western Panama, near Boquete. It's shade-grown.
The provider has acquired their 12th coffee farm. If you'd like to learn more about the investment, start at GREmarketplace.com/Coffee
There are upcoming group tours in March and May.
Resources mentioned:
Show Notes:
Learn more about Panama coffee farm investing:
Get mortgage loans for investment property:
RidgeLendingGroup.com or call 855-74-RIDGE 
or e-mail: info@RidgeLendingGroup.com
Analyze your RE portfolio at (use code "GRE" for 10% off):
Memphis property that cash flows from Day 1:
I'd be grateful if you search "how to leave an Apple Podcasts review" and do this for the show.
Top Properties & Providers:
Best Financial Education:
Get our wealth-building newsletter free—text 'GRE' to 66866
Our YouTube Channel:
www.youtube.com/c/GetRichEducation
Follow us on Instagram:
Keith's personal Instagram:
You're listening to the show that has created more financial freedom for busy people than nearly any show in the world.
Wealthy people's money either starts out or ends up in real estate. You need to become an investor, but you can't lose your time. Without being a landlord or flipper, you learn about strategic passive real estate investing to create generational wealth.
Become educated about real estate investing with GRE's 1-hour video course: Real Estate Pays 5 Ways.