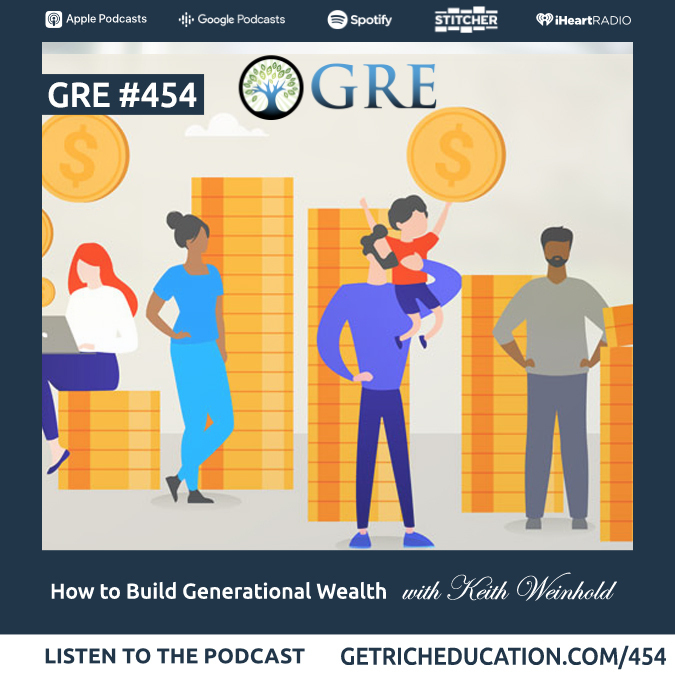 The wealth of families often dissipates to zero within a generation or two. 
Learn about the Vanderbilt family's downfall and how you can avoid these mistakes.
Have an estate plan. I explain the difference between a will and a trust.
I introduce you to my friend Michael Manthei. 
A regular GRE listener, Michael and his wife bought 55 units within 4 years and acquired $85,000 of annual real estate income.
He thinks about generational wealth as: income, taxes and inflation, giving, faith, service, preserving stories, character, physical health, and that your family is a treasure.
Learn the difference between inheritance and generational wealth.
Today, Michael runs the Elevate Investing Group. His upcoming event, Generational Wealth 2023, is August 18th-19th, 2023 in Lancaster, PA. Register here.
I've never heard of an event like this. Multiple generations of one family will tell you how they did it.
Resources mentioned:
Show Notes:
Michael's transformational event:
Build a trust or will fast:
Get mortgage loans for investment property:
RidgeLendingGroup.com or call 855-74-RIDGE 
or e-mail: info@RidgeLendingGroup.com
Find cash-flowing Jacksonville property at:
Invest with Freedom Family Investments. You get paid first: Text 'FAMILY' to 66866
Will you please leave a review for the show? I'd be grateful. Search "how to leave an Apple Podcasts review" 
Top Properties & Providers:
Best Financial Education:
Get our wealth-building newsletter free—
text 'GRE' to 66866
Our YouTube Channel:
www.youtube.com/c/GetRichEducation
Follow us on Instagram:
Keith's personal Instagram:
You're listening to the show that has created more financial freedom for busy people than nearly any show in the world.
Wealthy people's money either starts out or ends up in real estate. You need to become an investor, but you can't lose your time. Without being a landlord or flipper, you learn about strategic passive real estate investing to create generational wealth.
Become educated about real estate investing with GRE's 1-hour video course: Real Estate Pays 5 Ways.