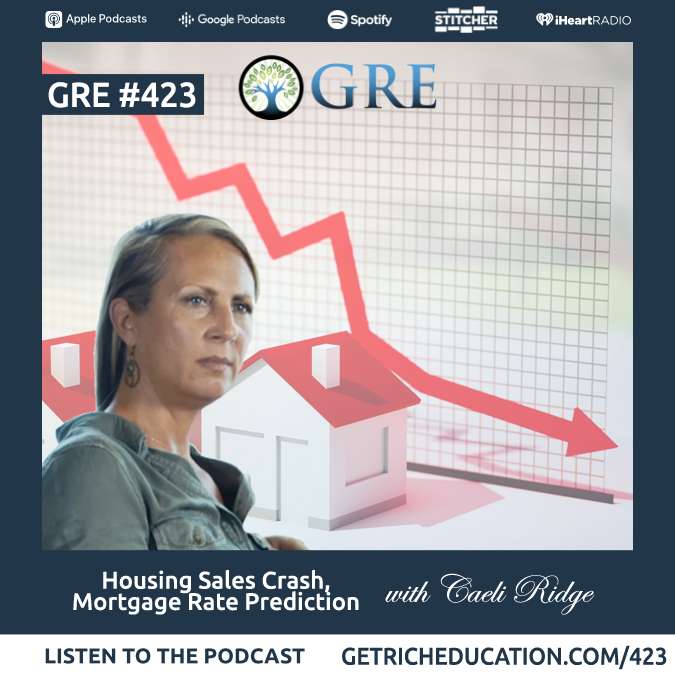 A housing crash is upon us. But it may not be the kind of crash that you think. I explain this sales crash means to the future of the housing market.
Caeli Ridge, President of Ridge Lending Group joins us. She gives an exact prediction about where and when mortgage interest rates will peak.
37% of homeowners have no mortgage at all. Among those with a mortgage, 85% have an interest rate under 5% per Redfin. They don't want to sell and give up their rate, constraining supply.
It's a nationwide lock-in effect. 
A housing PRICE crash is not expected. Existing homeowners can afford their mortgages and have record equity. This is reflected in the low delinquency rate.
The average age of first-time home buyers hit a record 36.
Caeli Ridge tells you how to get a lower mortgage interest rate with different loan types.
Investors keep their loan an average of 5-6 years.
Ridge offers mortgage loans specifically for investors: plain fixed rates, non-recourse, DSCR, asset depletion, bridge loans, commercial loans, cross-collateralization of residential properties, and the All-In-One Loan which operates like a first lien HELOC. 
See how much interest you save with the All-In-One Loan interactive simulator here: https://ridgelendinggroup.com/aio-loans/
Caeli sees lots of appraisals. They've all been coming in "on-value".
When it comes to higher mortgage rates, get used to it. The long-term average is 7.7%. 
Ridge Lending is where I get loans for my own properties. You can use them too. Start at RidgeLendingGroup.com or (855) 747-4343. 
Resources mentioned:
Show Notes:
Get mortgage loans for investment property:
RidgeLendingGroup.com or call 855-74-RIDGE 
or e-mail: info@RidgeLendingGroup.com
JWB's available Florida income property:
www.jwbrealestate.com/gre or (904) 677-6777
To learn more about eQRPs: text "GRE" to 307-213-3475 or:
Available Central Florida new-build income properties:
Analyze your RE portfolio at (use code "GRE" for 10% off):
Memphis property that cash flows from Day 1:
I'd be grateful if you search "how to leave an Apple Podcasts review" and do that for the show.
Best Financial Education:
Get our wealth-building newsletter free—text 'GRE' to 66866
Our YouTube Channel:
www.youtube.com/c/GetRichEducation
Top Properties & Providers:
Follow us on Instagram:
Keith's personal Instagram:
You're listening to the show that has created more financial freedom for busy people than nearly any show in the world.
Wealthy people's money either starts out or ends up in real estate. You need to become an investor, but you can't lose your time. Without being a landlord or flipper, you learn about strategic passive real estate investing to create generational wealth.
Become educated about real estate investing with GRE's 1-hour video course: Real Estate Pays 5 Ways.