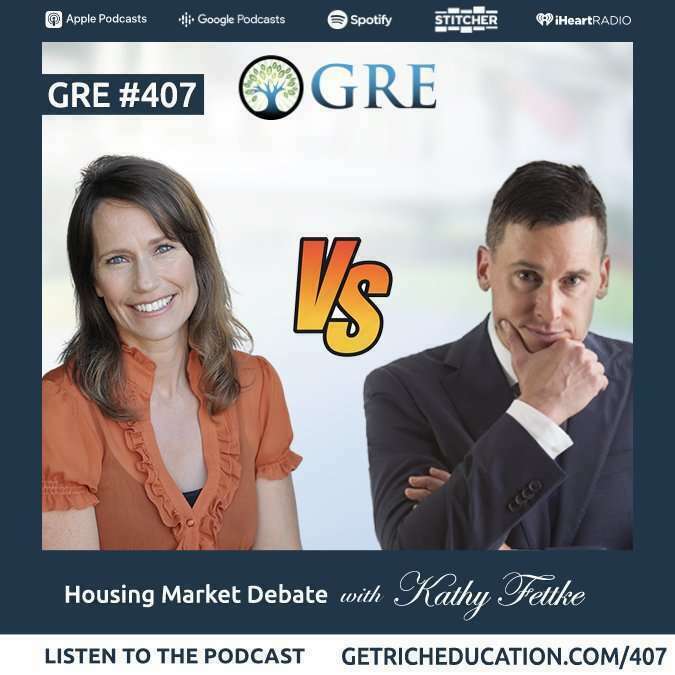 When mortgage rates rise, home builders slow down on building. This constrains supply and supports housing prices.
A record share of Americans say inflation is their No. 1 concern. The CPI is 9.1%.
Property operating expenses are rising with inflation, like insurance and property tax. What helps you pay for it? Rising rent.
Philosophically, why should you raise the rent on your tenants? 
Besides adjusting it to the market amount, you took time learning, you built your credit, you accumulated a 20% down payment, you originated an 80% loan, your operating expenses are rising, you weathered pandemic uncertainty.
If an auto mechanic makes $60 an hour, in ten years, they might make $90 an hour. Where's the growth in this?
Kathy Fettke from Real Wealth joins us.  
We disagree on the housing market being "healthy".
I believe a good description of the housing market is: "unbalanced":
Healthy for: rental property owners, existing homeowners, sellers.
Unhealthy for: renters, homebuyers. 
She believes that the Fed has overstimulated the economy, prices are high, and housing is undersupplied.
We discuss real estate's demographic advantage.
We agree that it's a bad market for prospective first-time buyers and renters, and good for those that have rental properties.
A housing price crash anytime soon is highly unlikely.
She & I each believe that today, it makes sense to add carefully-bought rental properties to rent to others.
Show Notes:
Real Wealth with Kathy Fettke:
Get mortgage loans for investment property:
RidgeLendingGroup.com or call 855-74-RIDGE 
or e-mail: info@RidgeLendingGroup.com
JWB's available Florida income property:
To learn more about eQRPs: text "GRE" to 307-213-3475 or:
Available Central Florida new-build income properties:
Best Financial Education:
Get our free, wealth-building "Don't Quit Your Daydream Letter":
www.GetRichEducation.com/Letter
Our YouTube Channel:
www.youtube.com/c/GetRichEducation
Top Properties & Providers:
Follow us on Instagram:
Keith's personal Instagram:
You're listening to the show that has created more financial freedom for busy people than nearly any show in the world.
Wealthy people's money either starts out or ends up in real estate. You need to become an investor, but you can't lose your time. Without being a landlord or flipper, you learn about strategic passive real estate investing to create generational wealth.
Become educated about real estate investing with GRE's 1-hour video course: Real Estate Pays 5 Ways.