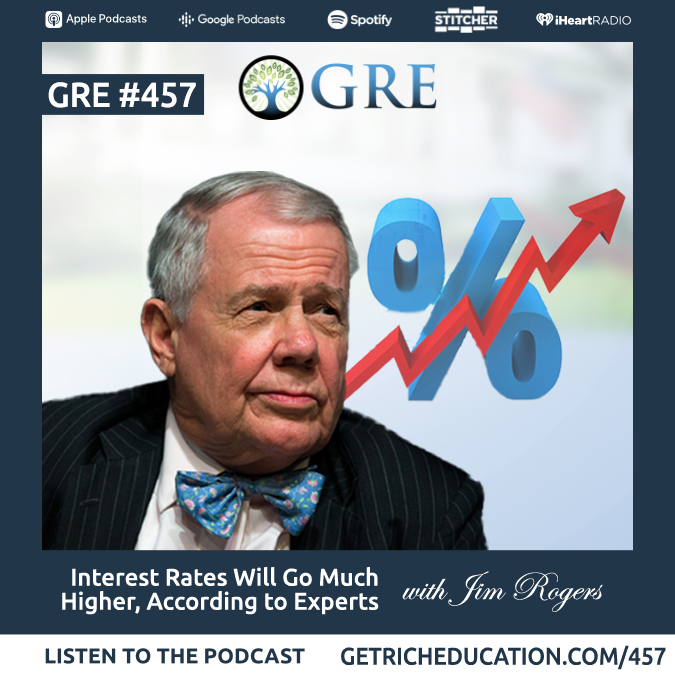 Get our newsletter free here or text "GRE" to 66866.
Higher interest rates are cracking the economy—failing banks and failing commercial RE loans. With many expecting rates to go much higher, what else will break?
Keith Weinhold, the host of the Get Rich Education podcast, discusses the current state of interest rates and their potential future trajectory.
Jim Rogers, legendary investor with an estimated $300M net worth, returns. He shares his insights on interest rates and inflation.
We discuss the impact of inflation on various asset classes, including real estate, and the potential for higher interest rates in the future.
The conversation also touches on topics such as agricultural real estate, the oil market, central bank digital currencies, and the role of gold and bitcoin as alternative forms of wealth storage.
Overall, the episode provides valuable insights into the current economic landscape and its implications for investors.
You're listening to the show that has created more financial freedom for busy people than nearly any show in the world.
Wealthy people's money either starts out or ends up in real estate. You need to become an investor, but you can't lose your time. Without being a landlord or flipper, you learn about strategic passive real estate investing to create generational wealth.
Become educated about real estate investing with GRE's 1-hour video course: Real Estate Pays 5 Ways.