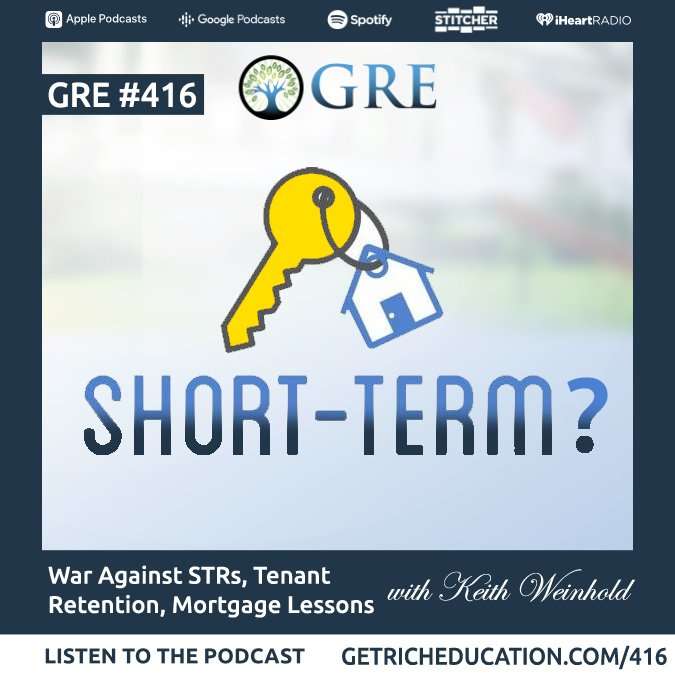 Residential real estate has greater usefulness and is easier to understand than: agricultural, office, retail, industrial, and warehouse real estate sectors.
Tenants are staying in both SFRs and apartments longer than before. I discuss three reasons for today's longer tenant retention trend.
Higher mortgage rates correlate with higher home prices. In fact, in the nine times mortgage rates increased 1%+ since 1994, home prices rose seven of those nine.
During recessions, mortgage rates typically fall. Both are opposite of what most people think.  
Resort communities are almost declaring war against short-term rentals. I explore the depth of the problem and discuss solutions.
Are the wealthy at fault? 
People that grew up in an area cannot afford housing in these STR hotbeds.
You're listening to the show that has created more financial freedom for busy people than nearly any show in the world.
Wealthy people's money either starts out or ends up in real estate. You need to become an investor, but you can't lose your time. Without being a landlord or flipper, you learn about strategic passive real estate investing to create generational wealth.
Become educated about real estate investing with GRE's 1-hour video course: Real Estate Pays 5 Ways.