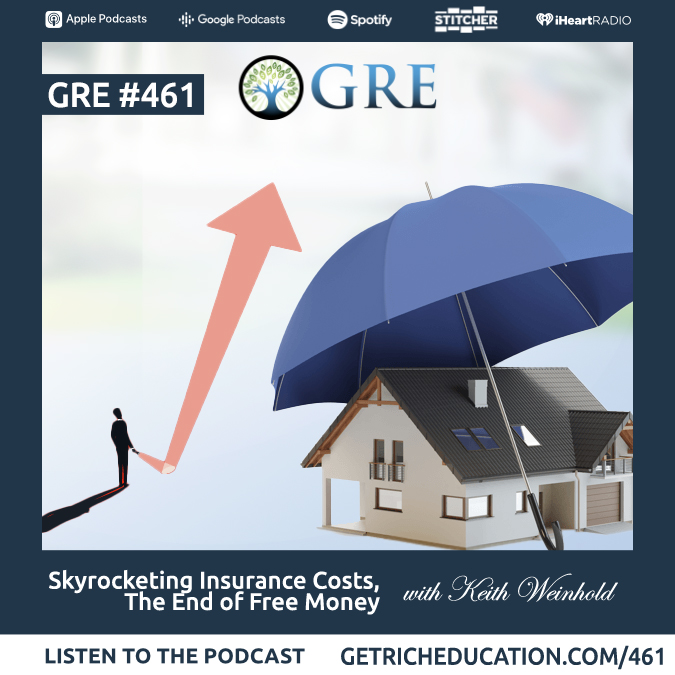 Sharply higher insurance premiums are affecting property owners nationwide. It's especially bad in: CA, LA, FL, TX and CO.
This is due to erratic weather (climate) and higher rebuilding costs. 
Phenomena like an increasing intensity and frequency of hurricanes, tornadoes, wildfires, and floods are sending some insurers out of business.
State Farm and AllState completely stopped issuing new homeowner policies in California.
Some areas are on the brink of becoming completely UNinsurable. In that case, the only sales that could occur with all cash buyers.
Learn three techniques to keep your skyrocketing insurance costs lower.
As you'll learn today, landlords have more options than homeowners for navigating spiking insurance rates.
Then, listen to a CNBC clip along with me about how the end of ZIRP (zero interest rate policy) affects your life and investments.
Resources mentioned:
Show Notes:
Get mortgage loans for investment property:
RidgeLendingGroup.com or call 855-74-RIDGE 
or e-mail: info@RidgeLendingGroup.com
Find cash-flowing Jacksonville property at:
Invest with Freedom Family Investments. You get paid first: Text 'FAMILY' to 66866
Will you please leave a review for the show? I'd be grateful. Search "how to leave an Apple Podcasts review" 
Top Properties & Providers:
GRE Free Investment Coaching:
Best Financial Education:
Get our wealth-building newsletter free—
text 'GRE' to 66866
Our YouTube Channel:
www.youtube.com/c/GetRichEducation
Follow us on Instagram:
Keith's personal Instagram:
You're listening to the show that has created more financial freedom for busy people than nearly any show in the world.
Wealthy people's money either starts out or ends up in real estate. You need to become an investor, but you can't lose your time. Without being a landlord or flipper, you learn about strategic passive real estate investing to create generational wealth.
Become educated about real estate investing with GRE's 1-hour video course: Real Estate Pays 5 Ways.