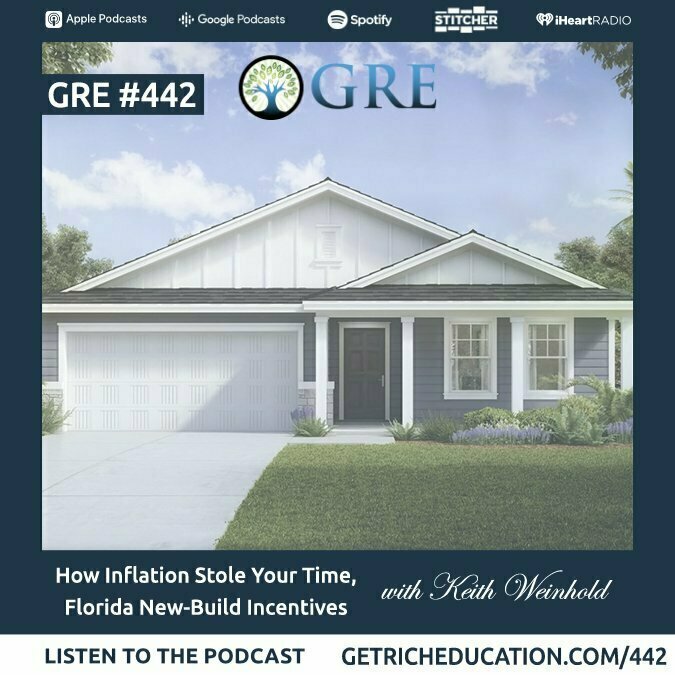 Get started with new-build Florida duplexes, triplexes, and quads right here. 
Conventional personal finance says that you should be able to put in your time, effort, and energy when you're young.
When you're older, you can live a great life knocking back drinks served in coconuts.
That's being severely threatened.
Throughout history, some humans have perpetrated malicious time theft on other humans. Murder and slavery are extreme versions.
You're likely the victim of more subtle versions.
If you're working at a job, then you're selling your time, effort, and energy into the marketplace.
The proxy (currency) that you're receiving in exchange for the finite resources that you expended tangibly represents what you've sacrificed.
With dollar inflation blatantly debasing your currency from beneath you, your human life capital is being stolen.
Invest in what's scarce and take real world resources to produce—real estate, gold bitcoin. Avoid what's abundant and easy to produce—dollars and stocks.
I play an audio clip of Fed Chair Jerome Powell's attack from Elizabeth Warren on raising interest rates. Last week, the Fed hiked rates for the 9th straight time.
A Florida builder of rent-to-own properties joins me – SFRs in the mid-$250Ks up to fourplexes.
Their build times have been reduced. They're still paying a higher price for concrete.
They're building smaller, entry-level rental properties that you can buy and have them manage.
The builder currently provides income property in: 7 southwest Florida markets, Jacksonville, Ocala, Palm Coast, Inverness, and Citrus Springs.
Square footages are falling.
Their site selection and stringent building codes are hurricane-resistant.
Until at least April 15th, 2023, they're offering investor buyers 2% of the purchase price at closing (buy down your rate to ~5.75% today) and two years of free PM. Get started here.
Our in-house Investment Coach, Naresh, can help get you started. At times, he is paid a referral fee. This is in order to keep it free for you.
Resources mentioned:
Show Notes:
Get started with new-build Florida duplexes, 
triplexes, and quads right here. 
Fed Chair Powell vs. Senator Warren video:
https://youtu.be/Y-IK0xdcRW4
Get mortgage loans for investment property:
RidgeLendingGroup.com or call 855-74-RIDGE 
or e-mail: info@RidgeLendingGroup.com
Memphis & Little Rock property that 
cash flows from Day One:
Find cash-flowing Jacksonville property at:
Will you please leave a review for the show? I'd be grateful. Search "how to leave an Apple Podcasts review" 
Top Properties & Providers:
Best Financial Education:
Get our wealth-building newsletter free—text 'GRE' to 66866
Our YouTube Channel:
www.youtube.com/c/GetRichEducation
Follow us on Instagram:
Keith's personal Instagram:
You're listening to the show that has created more financial freedom for busy people than nearly any show in the world.
Wealthy people's money either starts out or ends up in real estate. You need to become an investor, but you can't lose your time. Without being a landlord or flipper, you learn about strategic passive real estate investing to create generational wealth.
Become educated about real estate investing with GRE's 1-hour video course: Real Estate Pays 5 Ways.