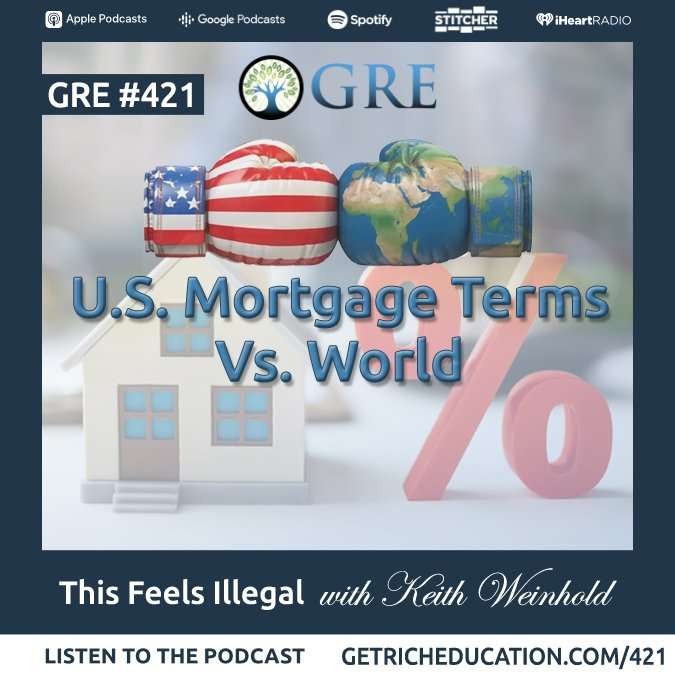 Get our wealth-building newsletter free. Text 'GRE' to 66866.
You can help abolish the term "slumlord". Profit by providing housing that's clean, safe, affordable, and functional.
Compared to the world, US mortgage terms are so advantageous that they almost feel illegal. 
I compare this with: Canada, UK, Ireland, Spain, Australia, South Korea, Germany, France, Switzerland, and Japan.
Are we in a recession? There continues to be dissonance in the economy.
College enrollment keeps declining. But now, 46% of parents even hope that their child does not pursue a four-year degree after high school.
A woman faced with eviction released a bee swarm on law enforcement.
It costs $1.7M to build a small public lavatory in San Francisco.
Resources mentioned:
Show Notes:
$1.7M public toilet in San Francisco:
https://www.theguardian.com/us-news/2022/oct/24/san-francisco-1-million-public-toilet
Woman being evicted releases bee swarm:
https://www.usatoday.com/story/news/nation/2022/10/20/woman-releases-bees-police-massachusetts/10549905002/
Get mortgage loans for investment property:
RidgeLendingGroup.com or call 855-74-RIDGE 
or e-mail: info@RidgeLendingGroup.com
JWB's available Florida income property:
www.jwbrealestate.com/gre or (904) 677-6777
To learn more about eQRPs: text "GRE" to 307-213-3475 or:
Available Central Florida new-build income properties:
Analyze your RE portfolio at (use code "GRE" for 10% off):
Memphis property that cash flows from Day 1:
I'd be grateful if you search "how to leave an Apple Podcasts review" and do that for the show.
Best Financial Education:
Get our free, wealth-building "Don't Quit Your Daydream Letter":
www.GetRichEducation.com/Letter
Our YouTube Channel:
www.youtube.com/c/GetRichEducation
Top Properties & Providers:
Follow us on Instagram:
Keith's personal Instagram:
You're listening to the show that has created more financial freedom for busy people than nearly any show in the world.
Wealthy people's money either starts out or ends up in real estate. You need to become an investor, but you can't lose your time. Without being a landlord or flipper, you learn about strategic passive real estate investing to create generational wealth.
Become educated about real estate investing with GRE's 1-hour video course: Real Estate Pays 5 Ways.