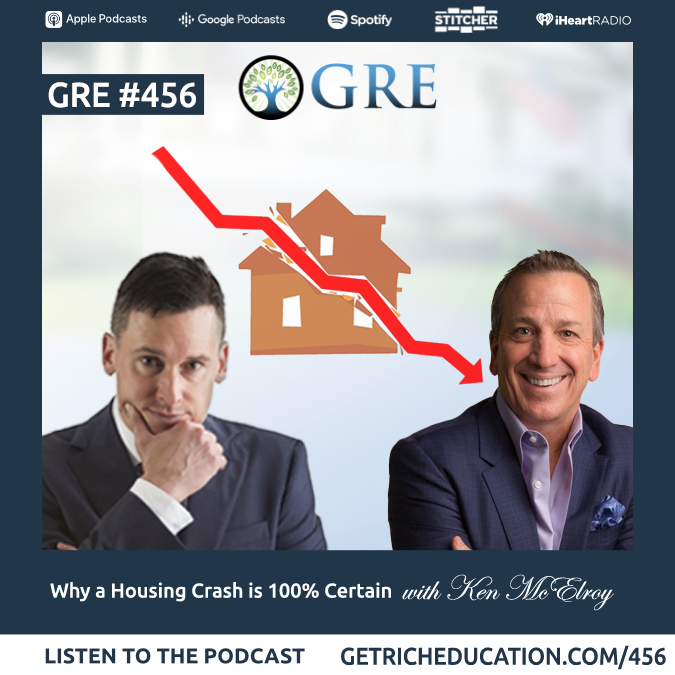 Get our newsletter free here or text "GRE" to 66866.
Are you curious about the direction of rents and property prices? 
In this episode of Get Rich Education, host Keith Weinhold dives into the absolute 100% certainty of a housing crash and how mortgage rates affect home prices. 
Keith is interviewed by Ken McElroy.
He also shares the importance of real estate in reducing taxes and increasing income. 
Keith discusses the attractive pricing and inflation in Ohio, and the benefits of investing in new build properties. 
He even touches on the increasing gold purchases by central banks and the potential impact on personal finances. 
Don't miss out on these valuable insights and learn about the prospects for a housing crash. Tune in now!
Resources mentioned:
Show Notes:
Get mortgage loans for investment property:
RidgeLendingGroup.com or call 855-74-RIDGE 
or e-mail: info@RidgeLendingGroup.com
Find cash-flowing Jacksonville property at:
Invest with Freedom Family Investments. You get paid first: Text 'FAMILY' to 66866
Will you please leave a review for the show? I'd be grateful. Search "how to leave an Apple Podcasts review" 
Top Properties & Providers:
Best Financial Education:
Get our wealth-building newsletter free—
text 'GRE' to 66866
Our YouTube Channel:
www.youtube.com/c/GetRichEducation
Follow us on Instagram:
Keith's personal Instagram:
You're listening to the show that has created more financial freedom for busy people than nearly any show in the world.
Wealthy people's money either starts out or ends up in real estate. You need to become an investor, but you can't lose your time. Without being a landlord or flipper, you learn about strategic passive real estate investing to create generational wealth.
Become educated about real estate investing with GRE's 1-hour video course: Real Estate Pays 5 Ways.