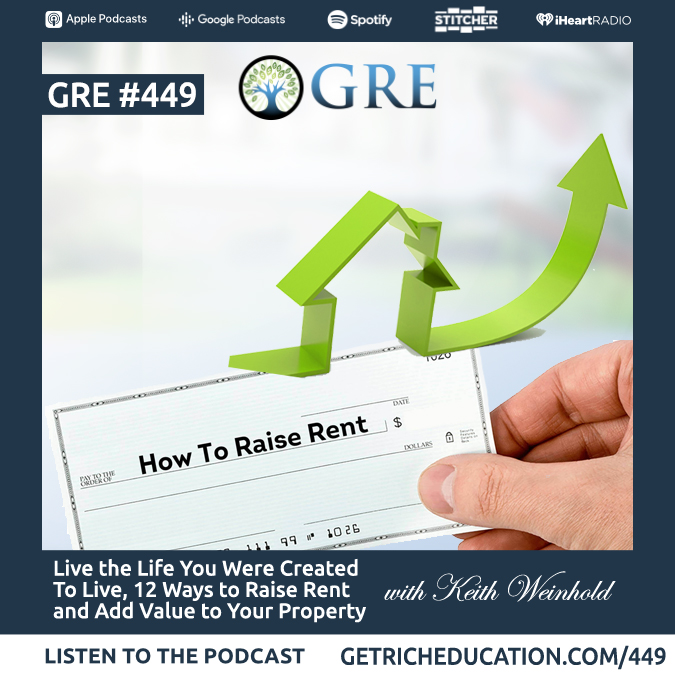 Are you living the life that you were created to live? I explore. 
People have harbored unfounded real estate fears for years. Here they were:
2012: Shadow inventory
2013: Boomers downsizing
2014: Rates spike
2015: PMI recession
2016: Vacant units
2017: Home prices above pre-GFC peak
2018: 5% mortgage rates
2019: Recession?
2020: Pandemic
2021: Forbearance crisis
2022: Rising rates
2023: Recession
US houses prices are heading up this spring. The latest FHFA's Monthly Housing Report shows 4% national home price appreciation.
We explore apartment reputation scores. This is a great proxy for what's happened in housing the past three years.
As an investor, you have a low "loss to purchase" with your tenants. It's difficult for them to buy their first home.
I discuss 12 Ways that you can raise the rent and increase the value of your property.
Resources mentioned:
Show Notes:
Get mortgage loans for investment property:
RidgeLendingGroup.com or call 855-74-RIDGE 
or e-mail: info@RidgeLendingGroup.com
Find cash-flowing Jacksonville property at:
Invest with Freedom Family Investments. You get paid first: Text 'FAMILY' to 66866
Will you please leave a review for the show? I'd be grateful. Search "how to leave an Apple Podcasts review" 
Top Properties & Providers:
Best Financial Education:
Get our wealth-building newsletter free—text 'GRE' to 66866
Our YouTube Channel:
www.youtube.com/c/GetRichEducation
Follow us on Instagram:
Keith's personal Instagram:
Credit to BiggerPockets.com
You're listening to the show that has created more financial freedom for busy people than nearly any show in the world.
Wealthy people's money either starts out or ends up in real estate. You need to become an investor, but you can't lose your time. Without being a landlord or flipper, you learn about strategic passive real estate investing to create generational wealth.
Become educated about real estate investing with GRE's 1-hour video course: Real Estate Pays 5 Ways.