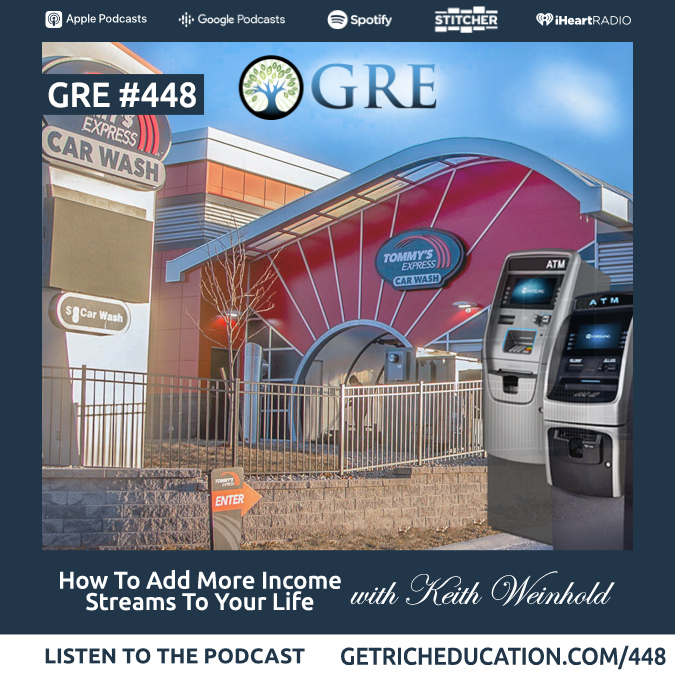 The average millionaire has 7 income streams. We discuss 2 income streams today—ATMs and Car Washes.
They're low touch, more passive than turnkey real estate investing.
With ATMs, is cash use on the decline? Not among the demographic they serve. We discuss the future of cash use.
Some ATM users pay a $3 surcharge to access a $20 bill. That's why it's profitable.
You can buy a unit of five ATMs. They've provided a 26.1% cash-on-cash return and high tax advantages. It's returned $2,262 per month.
Learn more about ATMs at: GREmarketplace.com/ATM
Car wash profits are enhanced with a subscription model. Few on-site employees are needed. 
You can invest alongside a tech-forward car wash franchise, Tommy's Express Car Wash.
The WSJ stated that no business other than car washes can create this much profit on a one acre lot.
As society changes, EV, gas-powered, and diesel cars must all go through the car wash.
ATMs and car washes demonstrate high operating margins and many tax advantages. You must be an accredited investor.
Learn more about car washes at: GREmarketplace.com/CarWash
Resources mentioned:
Show Notes:
Learn more about ATMs:
Learn more about Car Wash investing:
Get mortgage loans for investment property:
RidgeLendingGroup.com or call 855-74-RIDGE 
or e-mail: info@RidgeLendingGroup.com
Find cash-flowing Jacksonville property at:
Will you please leave a review for the show? I'd be grateful. Search "how to leave an Apple Podcasts review" 
Top Properties & Providers:
Best Financial Education:
Get our wealth-building newsletter free—text 'GRE' to 66866
Our YouTube Channel:
www.youtube.com/c/GetRichEducation
Follow us on Instagram:
Keith's personal Instagram:
You're listening to the show that has created more financial freedom for busy people than nearly any show in the world.
Wealthy people's money either starts out or ends up in real estate. You need to become an investor, but you can't lose your time. Without being a landlord or flipper, you learn about strategic passive real estate investing to create generational wealth.
Become educated about real estate investing with GRE's 1-hour video course: Real Estate Pays 5 Ways.