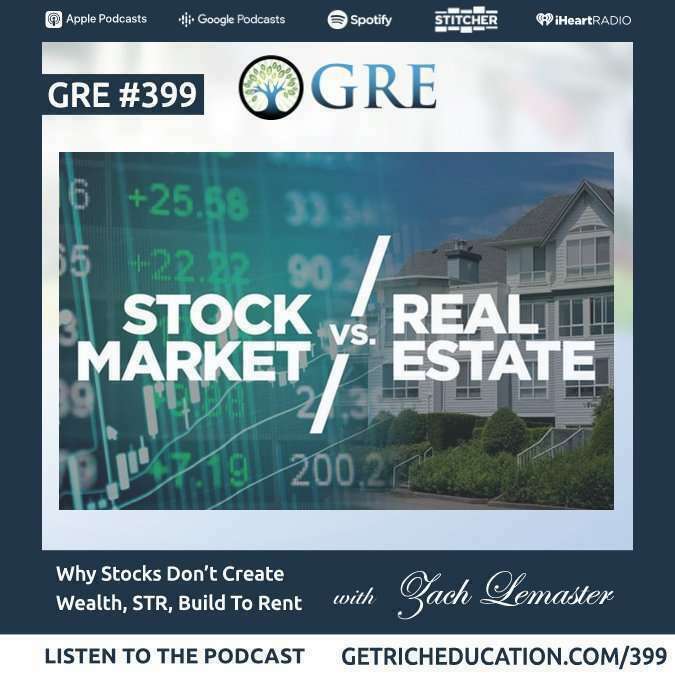 Have you ever met anyone that created wealth with stocks? I haven't.
Why not? 
Inflation, emotion, taxes, fees and volatility are the reasons. I break this down.
The Rule of 72 is what traditional advisers cite as a wealth-builder. I describe why this does not work.
Learn why returns from stock and mutual funds are often less than zero.
What really creates wealth? Leverage.
Learn trade-offs between long-term rentals and short-term rentals.
Zach Lemaster joins us. A licensed optometrist and captain for the US Air Force, he's become financially-free through real estate. 
We discuss the pros and cons of owning "Build-To-Rent" new construction income properties. It takes patience during the build process.
Find Build-To-Rent income properties by e-mailing GRE's Investment Coach:
Show Notes:
Get income properties by e-mailing GRE's Investment Coach:
When I interviewed the 401(k) inventor:
https://getricheducation.com/episode/197-inventor-of-401k-ted-benna-joins-us/
Get mortgage loans for investment property:
RidgeLendingGroup.com or call 877-74-RIDGE
JWB's available Florida income property:
To learn more about eQRPs: text "GRE" to 307-213-3475 or:
By texting "GRE" to 307-213-3475 and opting in, you will receive periodic marketing messages from eQRP Co. Message & data rates may apply. Reply "STOP" to cancel.
Make passive income with apartment and other syndications:
Best Financial Education:
Get our free, wealth-building "Don't Quit Your Daydream Letter":
www.GetRichEducation.com/Letter
Our YouTube Channel:
www.youtube.com/c/GetRichEducation
Top Properties & Providers:
Follow us on Instagram:
Keith's personal Instagram:
You're listening to the show that has created more financial freedom for busy people than nearly any show in the world.
Wealthy people's money either starts out or ends up in real estate. You need to become an investor, but you can't lose your time. Without being a landlord or flipper, you learn about strategic passive real estate investing to create generational wealth.
Become educated about real estate investing with GRE's 1-hour video course: Real Estate Pays 5 Ways.