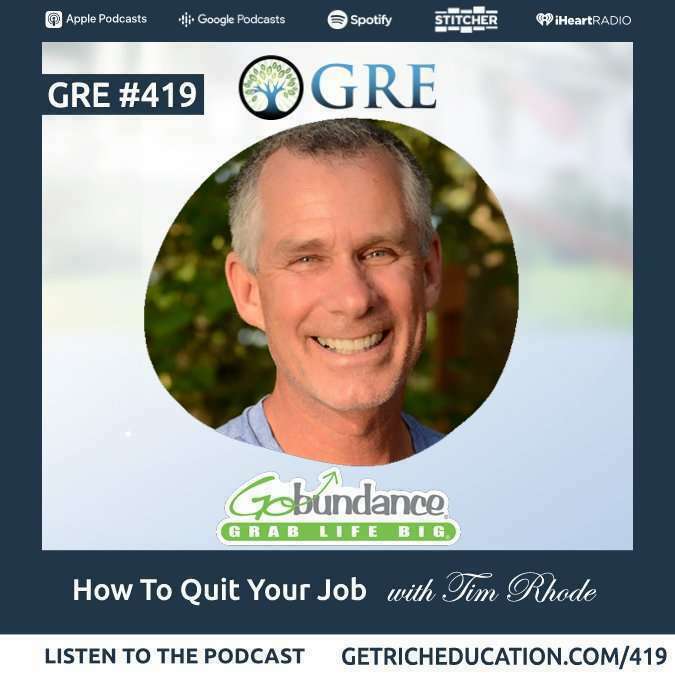 Are you a quitter? Today's show can make that feel aspirational. Quit a job you hate for the work you love.
Author of "The Quitter's Manifesto" and GoBundance Founder, Tim Rhode, joins me today.
For context on quitting your job, start with the I/O Quotient.
The Soul Sucking Meter: Are you being paid enough? Are you respected? Are you a good cultural fit at your workplace? How does it feel when you wake up to go to work? Could you do your job for decades? 
I quit my job for two main reasons: 1) Try it. 2) Be irreplaceable.
Tim describes that quitting your job is like catching the next trapeze. 
Want growth? Try something new and scary. You did this as a kid. For example, when you were 11 years old, you swam in water over your head. 
Take out a home equity loan before quitting your job. Put those funds into another bank. This builds your financial cushion during a lifestyle change.
Resources mentioned:
Show Notes:
Tim Rhode's book, The Quitter's Manifesto:
Get mortgage loans for investment property:
RidgeLendingGroup.com or call 855-74-RIDGE 
or e-mail: info@RidgeLendingGroup.com
JWB's available Florida income property:
www.jwbrealestate.com/gre or (904) 677-6777
To learn more about eQRPs: text "GRE" to 307-213-3475 or:
Available Central Florida new-build income properties:
Analyze your RE portfolio at (use code "GRE" for 10% off):
Memphis property that cash flows from Day 1:
I'd be grateful if you search "how to leave an Apple Podcasts review" and do that for this show.
Best Financial Education:
Get our free, wealth-building "Don't Quit Your Daydream Letter":
www.GetRichEducation.com/Letter
Our YouTube Channel:
www.youtube.com/c/GetRichEducation
Top Properties & Providers:
Follow us on Instagram:
Keith's personal Instagram:
You're listening to the show that has created more financial freedom for busy people than nearly any show in the world.
Wealthy people's money either starts out or ends up in real estate. You need to become an investor, but you can't lose your time. Without being a landlord or flipper, you learn about strategic passive real estate investing to create generational wealth.
Become educated about real estate investing with GRE's 1-hour video course: Real Estate Pays 5 Ways.