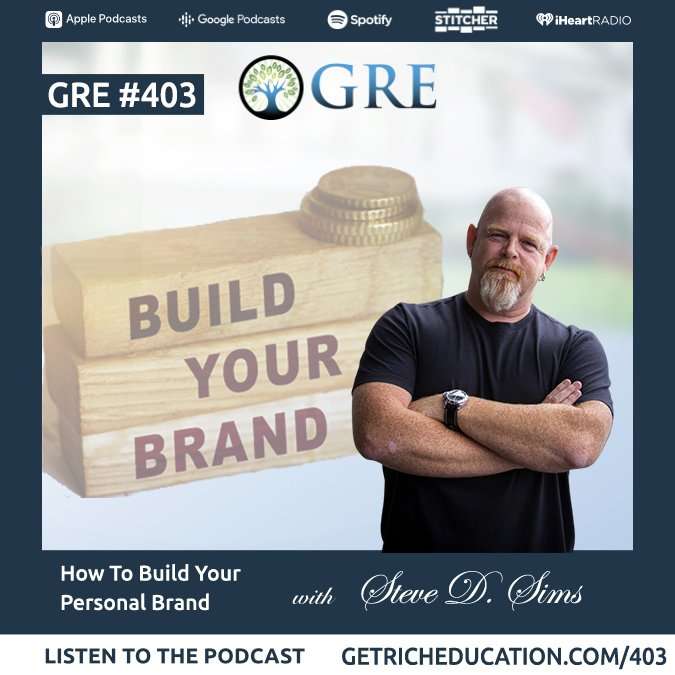 "You DO care about what others think of you. That's your reputation." -Keith Weinhold
People care about your brand when you create value for them. Next, you must reach people.
A construction worker in London decided that he wasn't where he was meant to be in life. He's our guest, Steve D. Sims.
He started asking others why they were wealthy but he wasn't.
A personal branding expert, Steve tells us why the right brand for you is the "authentic you".
When you meet someone, ask them about themselves. They are their own favorite subject.
"A brand is what people say about you when you've left the room." -Steve Sims
Brands are either solution-based or aspirational.
Every person has a brand.
Donald Trump was well-branded because he had clear slogans like "Make America Great Again" and "Build A Wall".
The lesson? Be clear about who you are or what you stand for.
It's OK to know what you're "not". For example, I didn't know how to hire a COO for GRE and still don't have experience managing people.
Show Notes:
Steve Sims' website:
Get mortgage loans for investment property:
RidgeLendingGroup.com or call 877-74-RIDGE
JWB's available Florida income property:
To learn more about eQRPs: text "GRE" to 307-213-3475 or:
By texting "GRE" to 307-213-3475 and opting in, you will receive periodic marketing messages from eQRP Co. Message & data rates may apply. Reply "STOP" to cancel.
Make passive income with apartment and other syndications:
You're listening to the show that has created more financial freedom for busy people than nearly any show in the world.
Wealthy people's money either starts out or ends up in real estate. You need to become an investor, but you can't lose your time. Without being a landlord or flipper, you learn about strategic passive real estate investing to create generational wealth.
Become educated about real estate investing with GRE's 1-hour video course: Real Estate Pays 5 Ways.