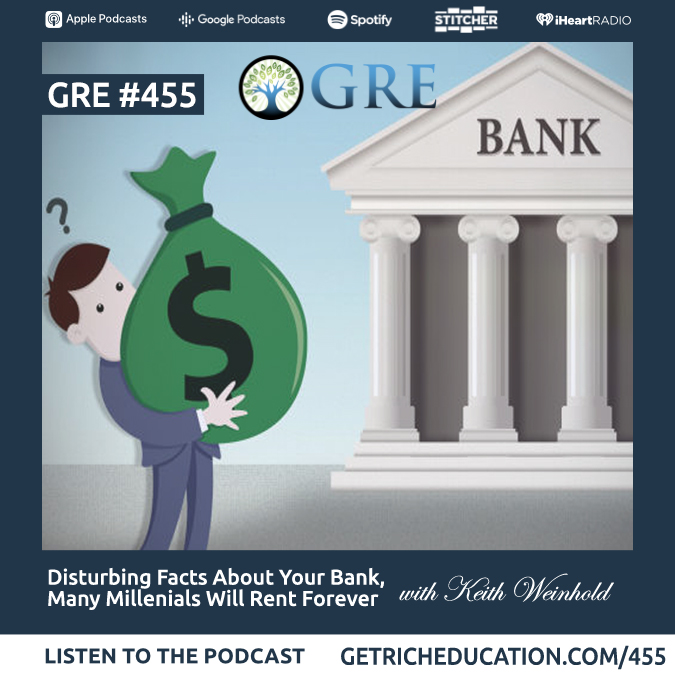 Get our newsletter free here or text "GRE" to 66866.
Storing your money at a bank entails more risk than you think. Your deposit is a bank's liability. Banks must take risks with your money because they don't charge you fees.
Banks used to have a 10:1 reserve ratio. As of March 2020, all reserve requirements are now eliminated.
Rather than storing lots of money at the bank, borrow lots of money from the bank.
US households own $41T of owner-occupied property—$29T in equity, $12T in debt. The national LTV ratio is 30%, historically low. That's 70% equity.
Of the five ways real estate pays: one profit source is the market, two are from the tenant's job, and two come from the government.
Many Millennials plan to rent forever. 63% have nothing saved for a down payment.
The interest-rate lock in effect keeps constraining the available supply of homes.
This forces more homebuilders to build.
Last week, NBC Nightly News covered the rise of build-to-rent communities.
Resources mentioned:
Show Notes:
Get mortgage loans for investment property:
RidgeLendingGroup.com or call 855-74-RIDGE 
or e-mail: info@RidgeLendingGroup.com
Find cash-flowing Jacksonville property at:
Invest with Freedom Family Investments. You get paid first: Text 'FAMILY' to 66866
Will you please leave a review for the show? I'd be grateful. Search "how to leave an Apple Podcasts review" 
Top Properties & Providers:
Best Financial Education:
Get our wealth-building newsletter free—
text 'GRE' to 66866
Our YouTube Channel:
www.youtube.com/c/GetRichEducation
Follow us on Instagram:
Keith's personal Instagram:
You're listening to the show that has created more financial freedom for busy people than nearly any show in the world.
Wealthy people's money either starts out or ends up in real estate. You need to become an investor, but you can't lose your time. Without being a landlord or flipper, you learn about strategic passive real estate investing to create generational wealth.
Become educated about real estate investing with GRE's 1-hour video course: Real Estate Pays 5 Ways.