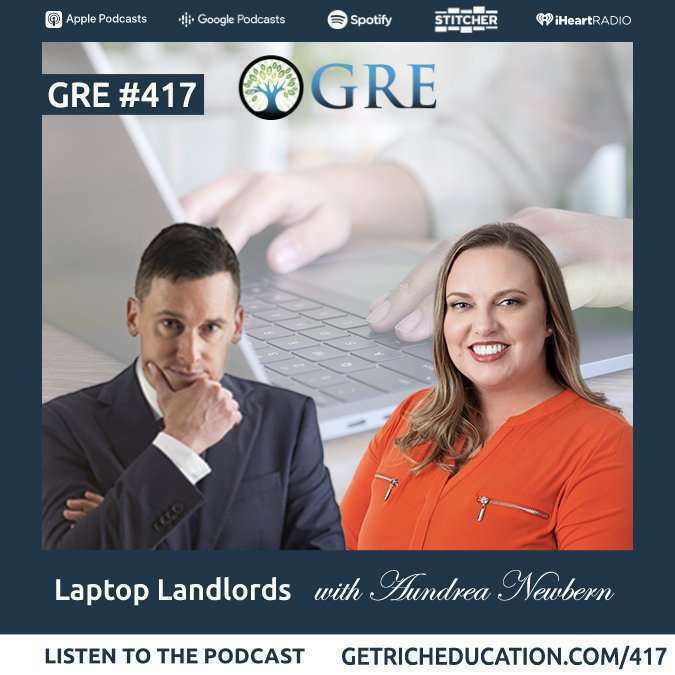 You want to increase your expenses. I reiterate why.
All five ways that real estate pays are rarely surging at the same time. In the past year, appreciation has slowed, cash flow rose, principal paydown slowed, tax benefits are roughly the same, and inflation-profiting rose.
How do you become a "laptop landlord" and know that you're buying a good property?
I share my favorite resources for real estate due diligence (laptop landlording). They're all in the "Resources Mentioned" below.
One mistake people make is that they tend to overgeneralize. They paint an entire city one color, saying something like: "I read that Memphis has high crime." Well, where within Memphis?
You can contract with an out-of-state stranger to check out a property for you at WeGoLook.com
Aundrea Newbern, COO of GRE, MBA, NAR member (the woman with all the letters behind her name) joins me. She discusses her top real estate successes and failures.
We discuss floods, old cast iron pipes, partnerships, single-family vs. multifamily, LTRs vs. STRs, and the opportunity cost of waiting to buy property. 
At times, if third-party inspectors see an issue, they refer you to specialists like foundation or mechanical inspectors.
Resources mentioned:
Show Notes:
Due diligence resources: ATTOM Data Solutions, Redfin, CoreLogic, Zumper, Altos Research, John Burns RE Consulting, Neighborhood Scout, Google Street View, WeGoLook.com, bls.gov, US Census, FRED, GREmarketplace.com 
I'd be grateful if you search "how to leave an Apple Podcasts review" and do that for this show.
Get mortgage loans for investment property:
RidgeLendingGroup.com or call 855-74-RIDGE 
or e-mail: info@RidgeLendingGroup.com
JWB's available Florida income property:
www.jwbrealestate.com/gre or (904) 677-6777
To learn more about eQRPs: text "GRE" to 307-213-3475 or:
Available Central Florida new-build income properties:
Analyze your RE portfolio at (use code "GRE" for 10% off):
Best Financial Education:
Get our free, wealth-building "Don't Quit Your Daydream Letter":
www.GetRichEducation.com/Letter
Our YouTube Channel:
www.youtube.com/c/GetRichEducation
Top Properties & Providers:
Follow us on Instagram:
Keith's personal Instagram:
You're listening to the show that has created more financial freedom for busy people than nearly any show in the world.
Wealthy people's money either starts out or ends up in real estate. You need to become an investor, but you can't lose your time. Without being a landlord or flipper, you learn about strategic passive real estate investing to create generational wealth.
Become educated about real estate investing with GRE's 1-hour video course: Real Estate Pays 5 Ways.