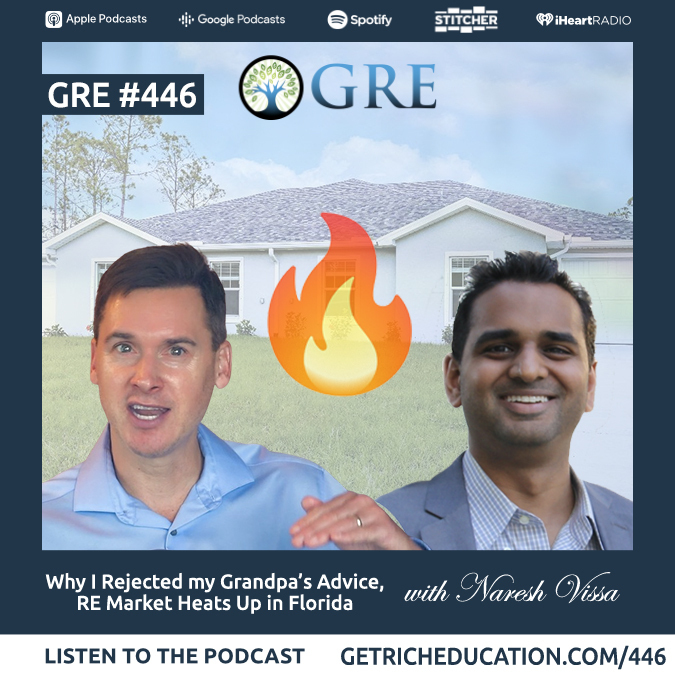 Grandpa told me to save money and buy a fixer-upper. What about paying off my mortgage ASAP?
Learn why I rejected it all.
Changing attitudes towards debt and savings began with high inflation in the 1970s. 
I compare global home prices and their changes since 2010. 
Projects for $300K starter homes are going extinct in America.
Keith Weinhold and Naresh Vissa describe the upcoming webinar for new-build properties in Florida—single-family homes up to fourplexes. 
It will offer incentives that are even better than the 2% closing cost cash and two years of free property management.
Join next week's Florida properties live event at: GREwebinars.com
Resources mentioned:
Show Notes:
Sign up for our Florida webinar next week:
World Housing Prices Since 2010:
https://www.visualcapitalist.com/cp/mapped-global-housing-prices-since-2010/
$300K Starter Homes Going Extinct:
https://finance-yahoo-com.cdn.ampproject.org/c/s/finance.yahoo.com/amphtml/news/300-000-starter-home-going-151338810.html
Get mortgage loans for investment property:
RidgeLendingGroup.com or call 855-74-RIDGE 
or e-mail: info@RidgeLendingGroup.com
Find cash-flowing Jacksonville property at:
Will you please leave a review for the show? I'd be grateful. Search "how to leave an Apple Podcasts review" 
Top Properties & Providers:
Best Financial Education:
Get our wealth-building newsletter free—text 'GRE' to 66866
Our YouTube Channel:
www.youtube.com/c/GetRichEducation
Follow us on Instagram:
Keith's personal Instagram:
You're listening to the show that has created more financial freedom for busy people than nearly any show in the world.
Wealthy people's money either starts out or ends up in real estate. You need to become an investor, but you can't lose your time. Without being a landlord or flipper, you learn about strategic passive real estate investing to create generational wealth.
Become educated about real estate investing with GRE's 1-hour video course: Real Estate Pays 5 Ways.