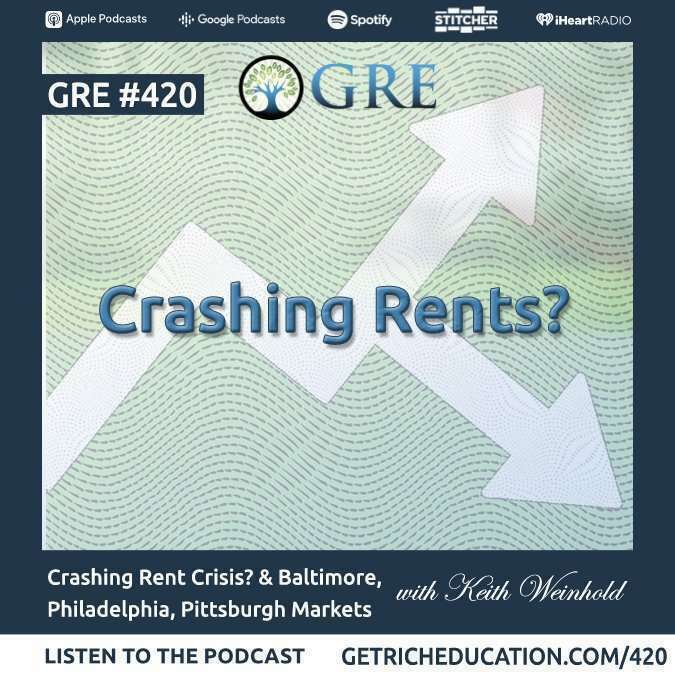 In times of high inflation, don't rents have to collapse? Tenants are getting squeezed, paying more for food, gas, medical care, and everything else. Won't rents have to fall?
Will this create a crisis for landlords too? If tenants can't pay the rent, landlords must still pay property expenses. 
Historically, what happens is opposite of what most think. So I explore what happened in high inflation 40+ years ago to forecast what will likely happen in the future.
There are three reasons why rents soar in high inflation: 1) tenants move down a class, 2) doubling up as roommates, and 3) today's low housing supply and high demand.
Rents are up 12% year-over-year today for both SFRs and apartments.
Real Estate Pays 5 Ways™, not four or six.
Get started with income property in Baltimore, Philadelphia, and Pittsburgh at: www.GREmarketplace.com/Coach Our in-house coach, Naresh, will help you. His services are free.
Both urban and suburban properties are available.
Urban areas often have a high Walk Score.
The rent-to-price ratios in these three mid-Atlantic markets often exceed 0.9% and even 1%. Before you buy, you already have an inspection report, desktop appraisal, and placed tenant's payment history in-hand. 
These rowhouses are often priced at a 20% discount. 3 bed / 1 bath is common.
You're listening to the show that has created more financial freedom for busy people than nearly any show in the world.
Wealthy people's money either starts out or ends up in real estate. You need to become an investor, but you can't lose your time. Without being a landlord or flipper, you learn about strategic passive real estate investing to create generational wealth.
Become educated about real estate investing with GRE's 1-hour video course: Real Estate Pays 5 Ways.