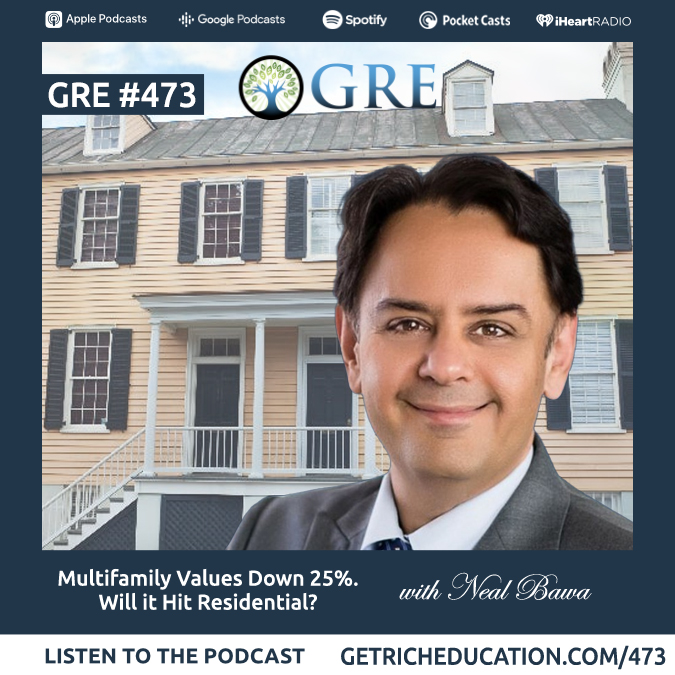 Failed deals. Capital calls. Lost investor money. A dreadful and sobering conversation ensues for many some commercial real estate sectors.
Residential (1-4 unit) and commercial (5+ unit) real estate fortunes are decoupling. 
Multifamily commercial loans are at the mercy of interest rate resets.
Residential is stable due to low supply and sustained demand.
Neal Bawa from MultifamilyU and I outline the multifamily problem. Values have plummeted 25%. 
The magnitude of the multifamily problem is about 1/80th of the 2008 Global Financial Crisis.
There are two reasons for the office apocalypse—both declining income and increasing expenses.
Only 3% of office buildings in downtown cores have a floor plan that can be converted to residential. Dreadful. 
There will be possible discounts in the hotel industry due to a lack of funding and loans.
Retail has surprising bright spots.
We discuss the future of rents through 2026.
Will multifamily problems create contagion into 1-4 unit residential? We discuss.
You're listening to the show that has created more financial freedom for busy people than nearly any show in the world.
Wealthy people's money either starts out or ends up in real estate. You need to become an investor, but you can't lose your time. Without being a landlord or flipper, you learn about strategic passive real estate investing to create generational wealth.
Become educated about real estate investing with GRE's 1-hour video course: Real Estate Pays 5 Ways.