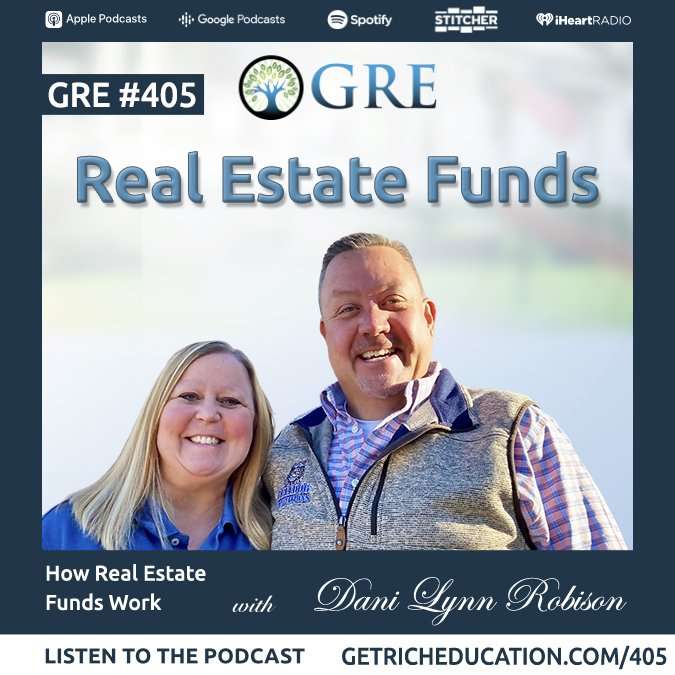 Real estate funds invest in multiple properties. 
Real estate syndications often invest in just one property.
"What is the worst deal that you've ever done?" Ask your fund provider that question.
I'm willing to share that I invest my personal real estate fund dollars with Flip & Dani Lynn Robison of Freedom Capital Investments.
Fund pros: More passive than turnkey, stable returns. 
Fund cons: Vet your operator.
Learn more or get started at: GREmarketplace.com/funds
There are short-term funds for liquidity, and longer-term funds for higher returns.
The difference between simple and compound interest weighs in here. 
Learn what a "preferred return" is.
Fund returns of up to 10-12% are offered. Learn where your return comes from.
Fund objectives: safety, certainty, reliability, and growth. 
We're talking about high-yield, fixed income fund.
Dani Lynn has been a part of more than 600 multifamily deals.
Learn how funds have two audit layers.
There are funds for both accredited and non-accredited investors.
Learn more or get started at: GREmarketplace.com/funds
Show Notes:
Get started with real estate funds. It's the same place I invest:
Dani Lynn Robison's team contact:
Phone | (937) 551-2282
Email | invest@freedomcapitalinvestments.com
Flip & Dani Lynn Robison's daily podcast:
Freedom Through Passive Income
Get mortgage loans for investment property:
RidgeLendingGroup.com or call 855-74-RIDGE 
or e-mail: info@RidgeLendingGroup.com
JWB's available Florida income property:
To learn more about eQRPs: text "GRE" to 307-213-3475 or:
By texting "GRE" to 307-213-3475 and opting in, you will receive periodic marketing messages from eQRP Co. Message & data rates may apply. Reply "STOP" to cancel.
Available Central Florida new-build income properties:
Best Financial Education:
Get our free, wealth-building "Don't Quit Your Daydream Letter":
www.GetRichEducation.com/Letter
Our YouTube Channel:
www.youtube.com/c/GetRichEducation
Top Properties & Providers:
Follow us on Instagram:
Keith's personal Instagram:
You're listening to the show that has created more financial freedom for busy people than nearly any show in the world.
Wealthy people's money either starts out or ends up in real estate. You need to become an investor, but you can't lose your time. Without being a landlord or flipper, you learn about strategic passive real estate investing to create generational wealth.
Become educated about real estate investing with GRE's 1-hour video course: Real Estate Pays 5 Ways.