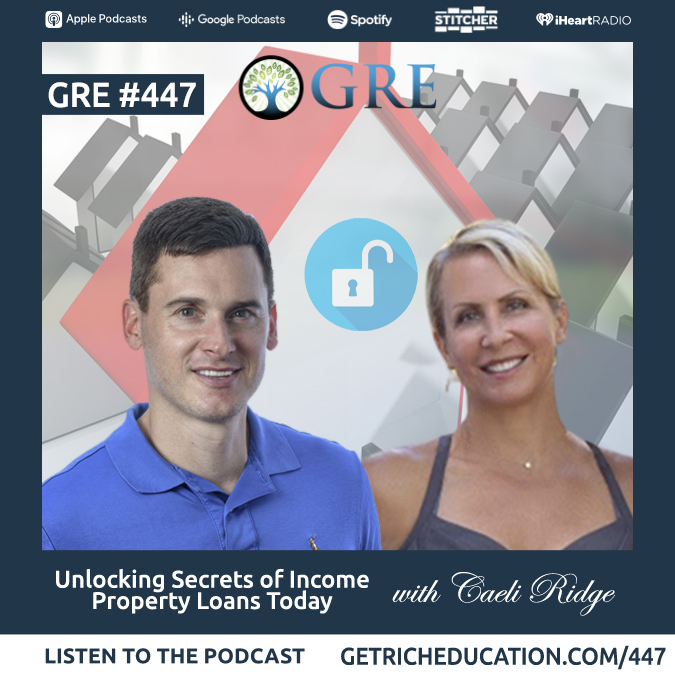 Learn how to harvest equity without giving up your low, fixed-rate mortgage.
Today, I discuss: conventional loans for single-family rentals, DTI, refinancing, accessing equity, student loan debt, and down payment requirements for income properties with Ridge Lending Group President, Caeli Ridge.
Learn what's better for a second mortgage—the pros and cons of a HELOC vs. Home Equity Loan.
You also get a mortgage market overview.
We discuss changes in cash-out refinance seasoning requirements. 
Caeli also describes where she believes mortgage rates are headed later this year.
Resources mentioned:
Show Notes:
Ridge Lending Group:
info@ridgelendinggroup.com
Join us for tomorrow's free GRE Florida properties webinar:
Ridge's All-In-One Loan Simulator:
https://ridgelendinggroup.com/aio-simulator/
Get mortgage loans for investment property:
RidgeLendingGroup.com or call 855-74-RIDGE 
or e-mail: info@RidgeLendingGroup.com
Find cash-flowing Jacksonville property at:
Will you please leave a review for the show? I'd be grateful. Search "how to leave an Apple Podcasts review" 
Top Properties & Providers:
Best Financial Education:
Get our wealth-building newsletter free—text 'GRE' to 66866
Our YouTube Channel:
www.youtube.com/c/GetRichEducation
Follow us on Instagram:
Keith's personal Instagram:
You're listening to the show that has created more financial freedom for busy people than nearly any show in the world.
Wealthy people's money either starts out or ends up in real estate. You need to become an investor, but you can't lose your time. Without being a landlord or flipper, you learn about strategic passive real estate investing to create generational wealth.
Become educated about real estate investing with GRE's 1-hour video course: Real Estate Pays 5 Ways.