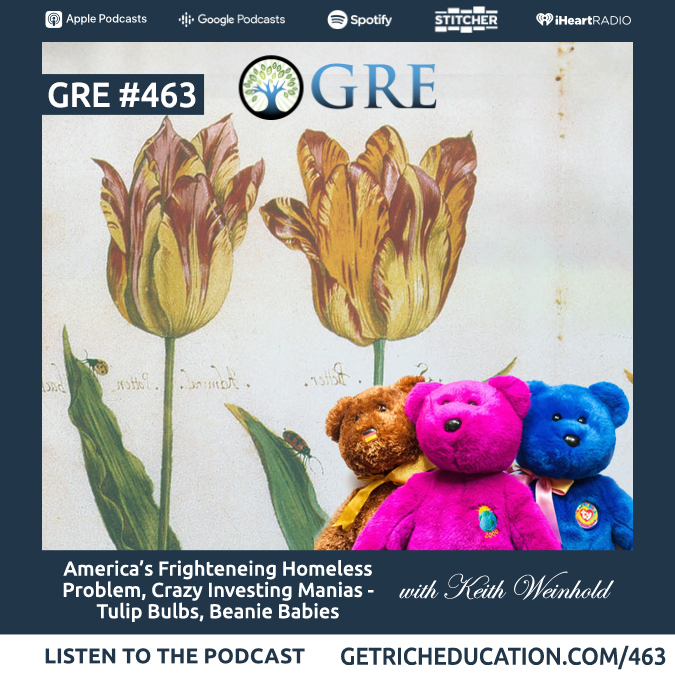 More homeless people have been created due to the housing supply crisis. Homelessness is up 11% since last year, per the WSJ.
The opioid crisis, consumer inflation, and NIMBYism have contributed too.
California has the most homelessness on both a total and per capita basis.
States with higher housing costs have more homeless people.
I share our poll results: "Should we pay to house the homeless?"
Are you a NIMBY? We find out today.
We can increase housing supply with rezoning, construction training, and lower mortgage rates.
The cycle of investor emotions led to wild investing manias. It was tulip bulbs in the 1600s Netherlands and Beanie Babies in the 1990s United States.
I discuss exactly why "buy low, sell high" is more difficult than it sounds.
Resources mentioned:
Show Notes:
Get mortgage loans for investment property:
RidgeLendingGroup.com or call 855-74-RIDGE 
or e-mail: info@RidgeLendingGroup.com
Invest with Freedom Family Investments. You get paid first: Text 'FAMILY' to 66866
Will you please leave a review for the show? I'd be grateful. Search "how to leave an Apple Podcasts review" 
Top Properties & Providers:
GRE Free Investment Coaching:
Best Financial Education:
Get our wealth-building newsletter free—
text 'GRE' to 66866
Our YouTube Channel:
www.youtube.com/c/GetRichEducation
Follow us on Instagram:
Keith's personal Instagram:
You're listening to the show that has created more financial freedom for busy people than nearly any show in the world.
Wealthy people's money either starts out or ends up in real estate. You need to become an investor, but you can't lose your time. Without being a landlord or flipper, you learn about strategic passive real estate investing to create generational wealth.
Become educated about real estate investing with GRE's 1-hour video course: Real Estate Pays 5 Ways.