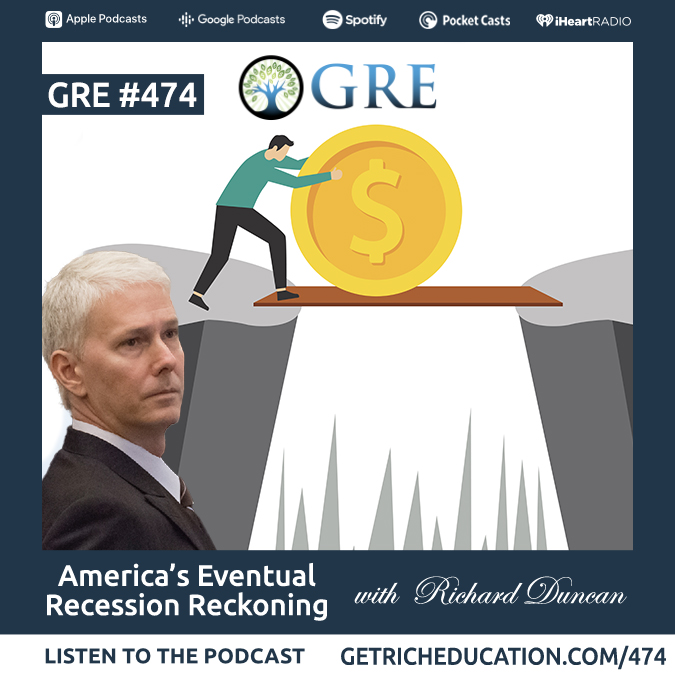 Will higher interest rates and inflation persist for a decade?
An upcoming recession always seems to be perpetually just around the corner. Learn when it should finally happen.
Macroeconomist Richard Duncan joins me. I tell you a funny story about when he was GRE's first-ever guest in 2014.
Currency is now being destroyed—called Quantitative Tightening.
Negatives for future asset prices: QT, higher rates, student loan debt repayment, stronger dollar, asset prices already inflated, high personal asset-to-income ratios, higher oil prices, looming government shutdown.
Positives for future asset prices: monetary stimulus hangover, high employment, CHIPS and Science Act, Inflation Reduction Act, The AI Revolution, prospect of lower future inflation and interest rates. 
Richard provides his opinion and insight on today's real estate market.
If inflation-adjusted credit growth is less than 2%, expect a recession. If it goes negative, expect a depression.
Get a 50% Discount on Richard Duncan's MacroWatch video newsletter. Use the code "GRE" at: RichardDuncanEconomics.com
You're listening to the show that has created more financial freedom for busy people than nearly any show in the world.
Wealthy people's money either starts out or ends up in real estate. You need to become an investor, but you can't lose your time. Without being a landlord or flipper, you learn about strategic passive real estate investing to create generational wealth.
Become educated about real estate investing with GRE's 1-hour video course: Real Estate Pays 5 Ways.