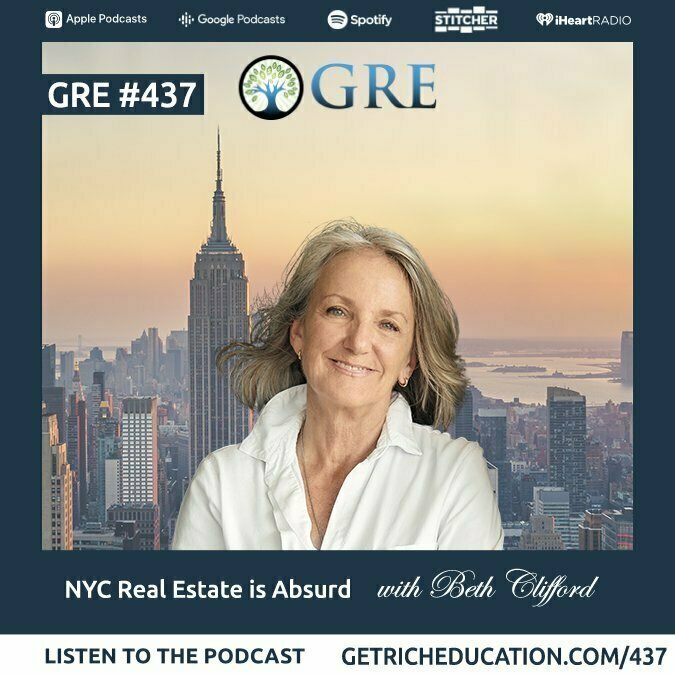 New York City real estate has distinctions and quirks that you'll find almost nowhere else in the world.
Is it unreal estate?
This includes: super skyscrapers, air rights, apartments with doormen, co-ops, pencil buildings, and rent control.
Can you actually make money in NYC real estate?
Incredibly, the national or world capital of all these are in NYC: banking, finance, communication, advertising, law, accountancy, fashion, arts, architecture, media, and more.
1 in 18 Americans live in the NYC metro area. The population is growing. 
Guest Beth Clifford joins us. 
She has an impressive set of experiences, including on Wall Street, with startups, and as an international real estate developer. Beth is a former NYC resident.
Beth describes: how "air rights" are really development rights, pencil buildings, which apartments have doormen, and more.
There's a short-term rental arbitrage strategy in NYC where you could make money. But is it legal? 
Join Thursday, Feb. 23rd's GRE Live Event for Philadelphia, Pittsburgh and Baltimore properties. Ask me questions live. It's free. Register now at: GREwebinars.com.
Resources mentioned:
Show Notes:
Get mortgage loans for investment property:
RidgeLendingGroup.com or call 855-74-RIDGE 
or e-mail: info@RidgeLendingGroup.com
Memphis property that cash flows from Day 1:
Find cash-flowing Jacksonville property at:
Book recommendation:
Find NYC apartments:
I'd be grateful if you search "how to leave an Apple Podcasts review" and do this for the show.
Top Properties & Providers:
Best Financial Education:
Get our wealth-building newsletter free—text 'GRE' to 66866
Our YouTube Channel:
www.youtube.com/c/GetRichEducation
Follow us on Instagram:
Keith's personal Instagram:
You're listening to the show that has created more financial freedom for busy people than nearly any show in the world.
Wealthy people's money either starts out or ends up in real estate. You need to become an investor, but you can't lose your time. Without being a landlord or flipper, you learn about strategic passive real estate investing to create generational wealth.
Become educated about real estate investing with GRE's 1-hour video course: Real Estate Pays 5 Ways.