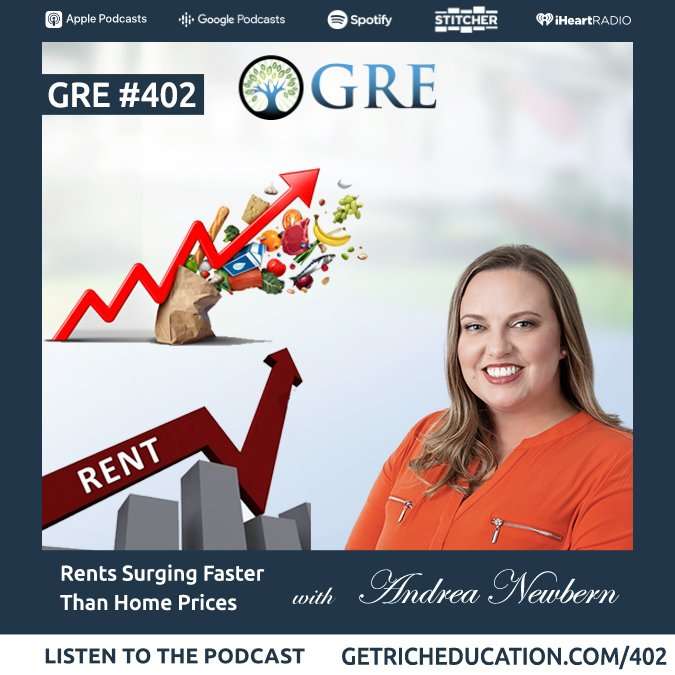 For many, it's become a scary world with $5-$6 gas, soaring food prices, spiking rents, the medical system is still a mess, and wages aren't keeping up with inflation.
Inflation is at a 40-year high of 8.6%. The Fed raised rates ¾%, the biggest jump in 28 years.
For every $1M in real estate debt that you have, you're benefiting $86,000 each year due to your debt debasement.
Affordability has become so bad for wannabe first-time home buyers that increasingly, they're becoming your renter.
Many project rent growth to exceed home price growth this year. Rent.com's Rent Report shows a 26% annual rent increase nationally.
Every 1% in a mortgage rate increase decreases a buyer's purchasing power by 12%.
GRE's COO Aundrea Newbern, MBA joins me. We discuss our favorite RE information sources.
Aundrea expects to diversify her RE portfolio into more markets. She's been focused on southeast Georgia.
Some RE resources we use: www.city-data.com, US Census Bureau data, CNBC.com, HousingWire.com, FRED data, the MLS, AirDNA.co, GREmarketplace.com.
When considering adding to your RE portfolio, simply talking to a Property Manager can be more valuable than the best website.
Aundrea sees a balanced market at prices $250K+, and a sellers' market at prices below $250K in southeast Georgia.
Days On Market (DOM), Sale-To-List Price Ratio discussed.
LTRs are in high demand and low supply. STRs are saturated in many markets.
Show Notes:
Rent.com's Rent Report:
https://www.rent.com/research/average-rent-price-report/
Get mortgage loans for investment property:
RidgeLendingGroup.com or call 877-74-RIDGE
JWB's available Florida income property:
To learn more about eQRPs: text "GRE" to 307-213-3475 or:
By texting "GRE" to 307-213-3475 and opting in, you will receive periodic marketing messages from eQRP Co. Message & data rates may apply. Reply "STOP" to cancel.
Make passive income with apartment and other syndications:
Best Financial Education:
Get our free, wealth-building "Don't Quit Your Daydream Letter":
www.GetRichEducation.com/Letter
Our YouTube Channel:
www.youtube.com/c/GetRichEducation
Top Properties & Providers:
Follow us on Instagram:
Keith's personal Instagram:
You're listening to the show that has created more financial freedom for busy people than nearly any show in the world.
Wealthy people's money either starts out or ends up in real estate. You need to become an investor, but you can't lose your time. Without being a landlord or flipper, you learn about strategic passive real estate investing to create generational wealth.
Become educated about real estate investing with GRE's 1-hour video course: Real Estate Pays 5 Ways.