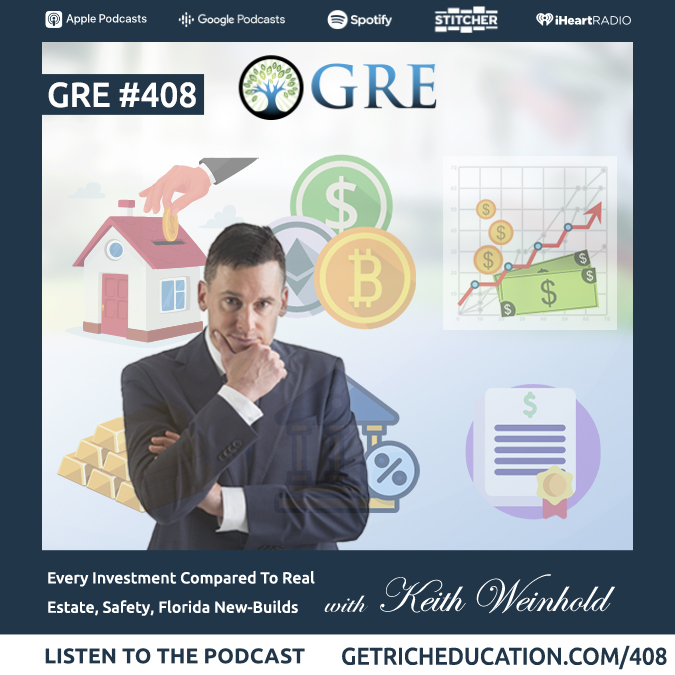 We compare the safety of all these investments: cash, savings accounts, treasuries, CDs, gold, cryptocurrency, stocks, mutual funds, ETFs, raw land, a primary residence, and income properties.
Listen to a mainstream media video clip about inflation from NBC Nightly News.
We get a Florida market update from GREmarketplace.com/Orlando.
Overall housing supply is low. It's even lower for entry-level properties.
For renovated properties, Florida insurance premiums have risen dramatically in the past few years. However, for new-builds, premiums are about 70% lower.
These particular available properties in Palm Bay, FL are typically: 4 BR, 2 BA, 2-car garage, concrete block, single-family rentals, new-build, vinyl flooring, granite counters, and infill quarter-acre lots. $319,000 is what buyers pay.
Today, these properties appear to appraise for $370,000+. You have $51K+ of built-in equity.
For those that select property at GREmarketplace.com/Orlando, your insurance is paid for the first year.
Resources mentioned:
New-build Florida income property for $319,000:
Show Notes:
NBC Nightly News on Inflation:
Get mortgage loans for investment property:
RidgeLendingGroup.com or call 855-74-RIDGE 
or e-mail: info@RidgeLendingGroup.com
JWB's available Florida income property:
www.jwbrealestate.com/gre or (904) 677-6777
To learn more about eQRPs: text "GRE" to 307-213-3475 or:
Available Central Florida new-build income properties:
Best Financial Education:
Get our free, wealth-building "Don't Quit Your Daydream Letter":
www.GetRichEducation.com/Letter
Our YouTube Channel:
www.youtube.com/c/GetRichEducation
Top Properties & Providers:
Follow us on Instagram:
Keith's personal Instagram:
You're listening to the show that has created more financial freedom for busy people than nearly any show in the world.
Wealthy people's money either starts out or ends up in real estate. You need to become an investor, but you can't lose your time. Without being a landlord or flipper, you learn about strategic passive real estate investing to create generational wealth.
Become educated about real estate investing with GRE's 1-hour video course: Real Estate Pays 5 Ways.