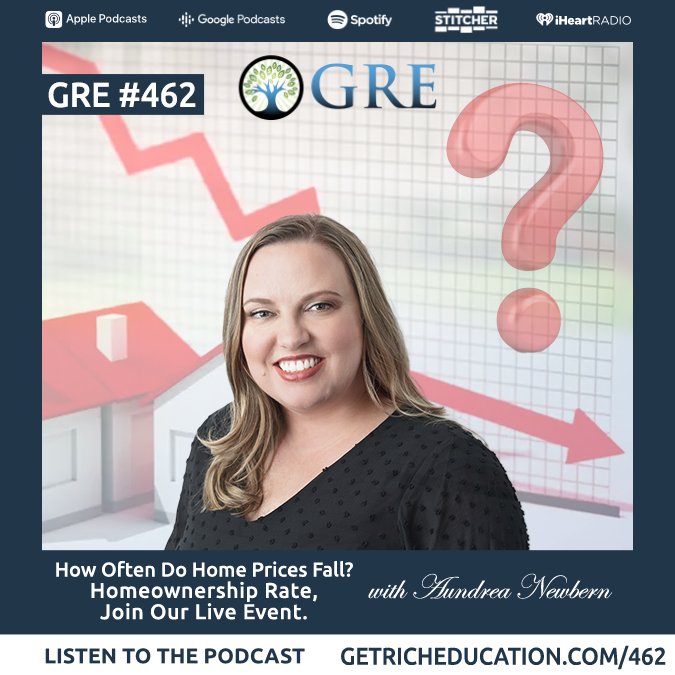 Join our live event for Utah new-build fourplexes on Wednesday. Register at: GREwebinars.com
Home prices fell three times since 1975. We explore the reasons why.
The homeownership rate is 66% today. (The long-term average is 65%.) I expect the homeownership rate to fall due to low affordability, which will increase renter households.
If you have dollars in a savings account that pays 5% interest, I describe why you're losing prosperit.
Our Investment Coach, Aundrea & I discuss the state of the real estate market.
Then we discuss our upcoming live event for new-build Utah fourplexes. They produce cash flow, have great tenant amenities and come with built-in equity. This area is extremely fast-growing: Register here.
Show Notes:
Join our Utah fourplexes live event:
Get mortgage loans for investment property:
RidgeLendingGroup.com or call 855-74-RIDGE 
or e-mail: info@RidgeLendingGroup.com
Invest with Freedom Family Investments. You get paid first: Text 'FAMILY' to 66866
Will you please leave a review for the show? I'd be grateful. Search "how to leave an Apple Podcasts review" 
Top Properties & Providers:
GRE Free Investment Coaching:
Best Financial Education:
Get our wealth-building newsletter free—
text 'GRE' to 66866
Our YouTube Channel:
www.youtube.com/c/GetRichEducation
Follow us on Instagram:
Keith's personal Instagram:
You're listening to the show that has created more financial freedom for busy people than nearly any show in the world.
Wealthy people's money either starts out or ends up in real estate. You need to become an investor, but you can't lose your time. Without being a landlord or flipper, you learn about strategic passive real estate investing to create generational wealth.
Become educated about real estate investing with GRE's 1-hour video course: Real Estate Pays 5 Ways.