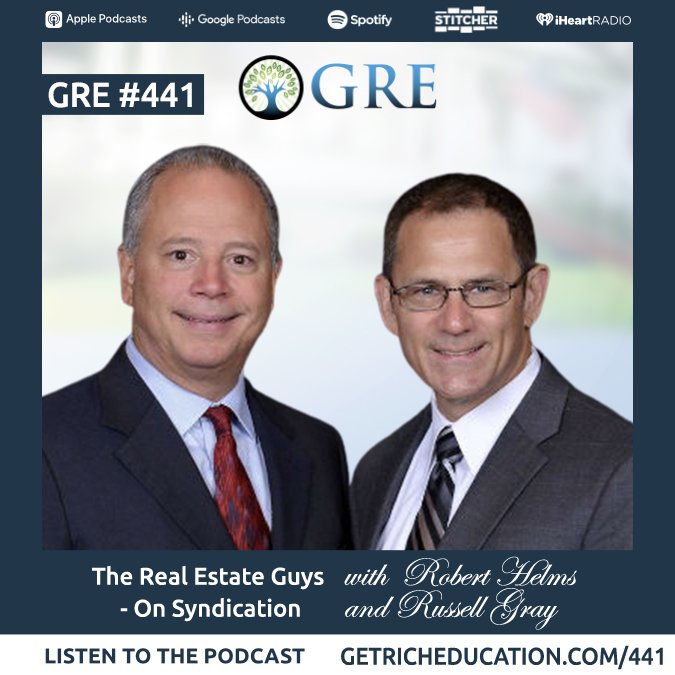 You can afford an $8M apartment building. Perhaps you just haven't really asked: "How?"
The answer: syndication.
Today's guests are The Real Estate Guys, Robert Helms and Russell Gray. They've had a profound influence on me.
If you're an active real estate investor with some experience, caught the real estate bug, and want to go full-time, Robert and Russ are masters at helping you go bigger, faster with syndication.
You can aggregate other investors' money to buy a deal that you could not afford on your own, like a large apartment building, self-storage unit, or car wash.
You must find both deals and investors.
Syndicators must follow SEC rules.
When you find a deal, the numbers must work for investors. But it helps that your project has a deeper story and meaning. Russell Gray provides an example.
The Real Estate Guys Radio Show – Real Estate Investing Education for Effective Action
Twice annually, they host the live, in-person Secrets Of Successful Syndication event.
Resources mentioned:
Show Notes:
Join the next Secrets of Successful Syndication seminar:
https://ap216.isrefer.com/go/soss/A0011/ 
Listen to The Real Estate Guys
Get mortgage loans for investment property:
RidgeLendingGroup.com or call 855-74-RIDGE 
or e-mail: info@RidgeLendingGroup.com
Memphis & Little Rock property that 
cash flows from Day One:
Find cash-flowing Jacksonville property at:
Will you please leave a review for the show? I'd be grateful. Search "how to leave an Apple Podcasts review" 
Top Properties & Providers:
Best Financial Education:
Get our wealth-building newsletter free—text 'GRE' to 66866
Our YouTube Channel:
www.youtube.com/c/GetRichEducation
Follow us on Instagram:
Keith's personal Instagram:
You're listening to the show that has created more financial freedom for busy people than nearly any show in the world.
Wealthy people's money either starts out or ends up in real estate. You need to become an investor, but you can't lose your time. Without being a landlord or flipper, you learn about strategic passive real estate investing to create generational wealth.
Become educated about real estate investing with GRE's 1-hour video course: Real Estate Pays 5 Ways.