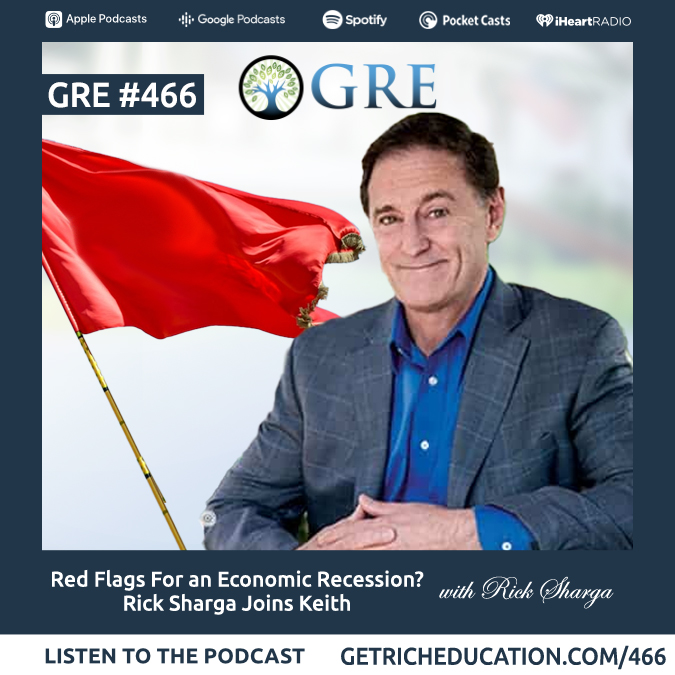 In many world nations, if you're born poor, you stay poor. I discuss how in America, you can be upwardly mobile.
Back in 2010, real estate prices had fallen, but rents had not. This created years of cash flow. Today, as prices have outpaced rents, cash flow keeps shrinking.
Our Investment Coaches have access to income properties with 4.75% and 5.75% mortgage interest rates. It's a way to "bring back cash flow". Get started at GREmarketplace.com/Coach
Terrific housing intelligence analyst Rick Sharga joins us for the first of two consecutive episodes.
Rick & I discuss the condition of the American consumer, inflation and interest rates, concerns about a potential economic downturn, the housing market, the impact of consumer confidence on spending, and the actions taken by the Federal Reserve to control inflation. 
There's flagging consumer confidence and a yield curve inversion. Are these finally harbingers of an economic recession?
Rick's informal survey of economists find that there's a 50-50 chance of a recession this cycle. Earlier this year, 80% of economists felt that a recession was imminent.
If there is a recession this cycle, Rick thinks there's a probability that it will be mild.
Average hourly wages are $28-29 / hour. Wage growth is 4-5%. Wages are finally running higher than home price appreciation.
Resources mentioned:
Show Notes:
Rick Sharga on X (Twitter):
Get mortgage loans for investment property:
RidgeLendingGroup.com or call 855-74-RIDGE 
or e-mail: info@RidgeLendingGroup.com
Invest with Freedom Family Investments. You get paid first: Text 'FAMILY' to 66866
Will you please leave a review for the show? I'd be grateful. Search "how to leave an Apple Podcasts review" 
Top Properties & Providers:
GRE Free Investment Coaching:
Best Financial Education:
Get our wealth-building newsletter free—
text 'GRE' to 66866
Our YouTube Channel:
www.youtube.com/c/GetRichEducation
Follow us on Instagram:
Keith's personal Instagram:
You're listening to the show that has created more financial freedom for busy people than nearly any show in the world.
Wealthy people's money either starts out or ends up in real estate. You need to become an investor, but you can't lose your time. Without being a landlord or flipper, you learn about strategic passive real estate investing to create generational wealth.
Become educated about real estate investing with GRE's 1-hour video course: Real Estate Pays 5 Ways.