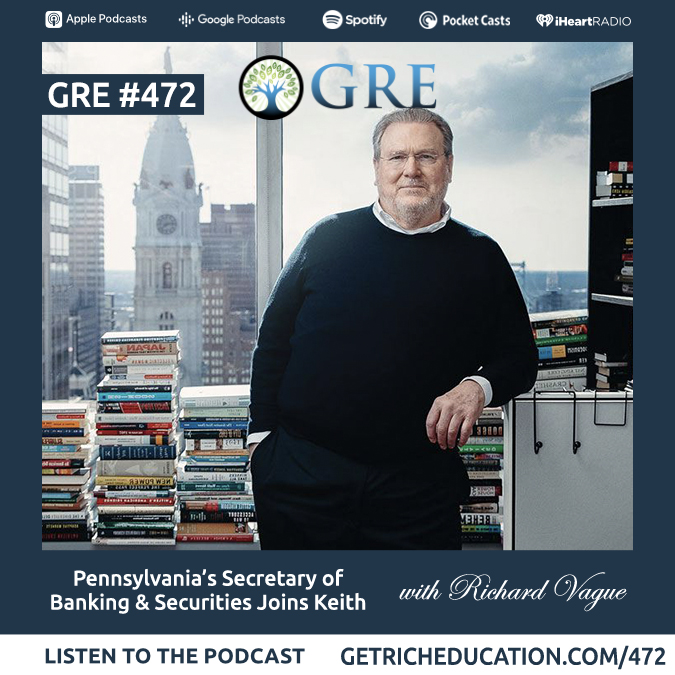 Before our PA Governor-appointed public official guest joins us, I discuss how autonomous cars expect to change real estate.
Richard Vague, Pennsylvania's Secretary of Banking and Securities from 2020-2023 joins us. We're in the state capital of Harrisburg, PA.
We discuss America's beginnings in real estate and banking from around 1800.
He tells us about the health of banks in the wake of recent failures due to higher interest rates.
I ask Richard about full reserve banks vs. fractional lending banks.
Great Britain prohibited colonists from owning land west of the Appalachians.
The basis of early land wealth were crops grown on the land—wheat, corn, tobacco, indigo, and rice.
Mortgages around 1800 were often 50% LTV and 6% interest rates.
Here in the 2020s, Richard believes that private sector debt is a larger problem than public debt. Wherever debt growth is most rapid are where the economic cracks exist.
Inflation benefits the Top 10% of the economic strata.
Private debt becomes unsustainable around 225% of GDP. In the US, it's currently 160%.
You become insolvent when you cannot make interest-only payments. That's true for you as an individual, or a nation.
If these topics interest you, check out Richard's new book, "The Paradox of Debt" at ParadoxOfDebt.com.
Resources mentioned:
Show Notes:
Richard Vague's new book:
ParadoxOfDebt.com
For access to properties or free help with GRE's Investment Coach, start here:
GREmarketplace.com
Get mortgage loans for investment property:
RidgeLendingGroup.com or call 855-74-RIDGE or e-mail: info@RidgeLendingGroup.com
Invest with Freedom Family Investments. You get paid first: Text 'FAMILY' to 66866
Will you please leave a review for the show? I'd be grateful. Search "how to leave an Apple Podcasts review"
Top Properties & Providers:
GREmarketplace.com
GRE Free Investment Coaching:
GREmarketplace.com/Coach
Best Financial Education:
GetRichEducation.com
Get our wealth-building newsletter free—text 'GRE' to 66866
Our YouTube Channel:
www.youtube.com/c/GetRichEducation
Follow us on Instagram:
@getricheducation
Keith's personal Instagram:
@keithweinhold
You're listening to the show that has created more financial freedom for busy people than nearly any show in the world.
Wealthy people's money either starts out or ends up in real estate. You need to become an investor, but you can't lose your time. Without being a landlord or flipper, you learn about strategic passive real estate investing to create generational wealth.
Become educated about real estate investing with GRE's 1-hour video course: Real Estate Pays 5 Ways.