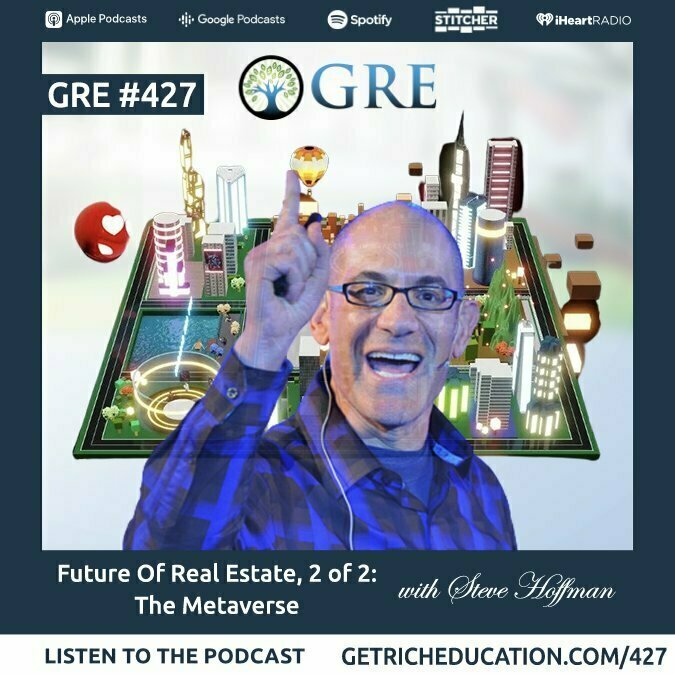 Metaverse real estate is virtual. Can you make money with it?
First, I discuss updates to 3-D printed homes and Boxabl homes.
Next, our guest, Steve Hoffman, describes that metaverse is a virtual space where you can interact with virtual objects.
There is no single metaverse. There are apps in the metaverse, like Second Life and Decentraland.
Learn what makes a piece of metaverse real estate valuable or worthless.
You often buy NFTs on the blockchain.
With Upland, you can buy NFTs of real properties, like the Statue Of Liberty or Dodger Stadium.
Our guest feels that metaverse real estate investing is highly speculative. It is risky and often akin to gambling.
Metaverse economies are subject to monetary inflation.
Does metaverse RE have any value?
Steve runs the global innovation hub, Founders Space.
Resources mentioned:
Show Notes:
Learn more about Steve Hoffman:
A current popular metaverse app:
Get mortgage loans for investment property:
RidgeLendingGroup.com or call 855-74-RIDGE 
or e-mail: info@RidgeLendingGroup.com
JWB's available Florida income property:
www.jwbrealestate.com/gre or (904) 677-6777
To learn more about eQRPs: text "GRE" to 307-213-3475 or:
Analyze your RE portfolio at (use code "GRE" for 10% off):
Memphis property that cash flows from Day 1:
I'd be grateful if you search "how to leave an Apple Podcasts review" and do this for the show.
Best Financial Education:
Get our wealth-building newsletter free—text 'GRE' to 66866
Our YouTube Channel:
www.youtube.com/c/GetRichEducation
Top Properties & Providers:
Follow us on Instagram:
Keith's personal Instagram:
You're listening to the show that has created more financial freedom for busy people than nearly any show in the world.
Wealthy people's money either starts out or ends up in real estate. You need to become an investor, but you can't lose your time. Without being a landlord or flipper, you learn about strategic passive real estate investing to create generational wealth.
Become educated about real estate investing with GRE's 1-hour video course: Real Estate Pays 5 Ways.