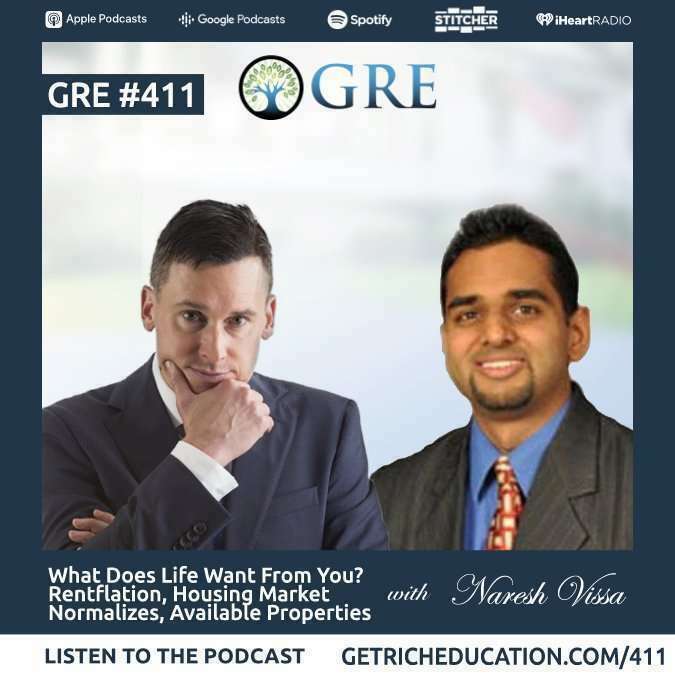 You told yourself you'd change the world, then you let the world change you.
Rather than asking yourself, "What do I want out of life?", a more powerful question is: "What does life want from me?"
Almost everyone wants to be "job optional". 
People often use their words to denigrate the importance of money, yet their actions validate its importance.
High-flying real estate appreciation rates are mostly over with. The market is normalizing.
Through Q2, national median home price appreciation is 14%. But it's quickly slowing.
American apartment rent-to-income ratio is 23% for tenants.
Zumper tells us there's about 10.2% national rent appreciation. Highest are TN and NC.
We have available properties in the Midwest and South. Naresh & I spotlight Poinciana, FL; Ocklawaha, FL; and Memphis. 
For available properties and free coaching, contact Naresh at: naresh@getricheducation.com
Resources mentioned:
Show Notes:
E-mail Naresh about cash-flowing properties:
naresh@getricheducation.com
Zumper's Rent Report:
https://www.zumper.com/blog/rental-price-data/
Rent Is The New Gas:
https://www.usatoday.com/story/money/economy/2022/08/09/rents-topping-gas-prices-inflation/10279406002/?gnt-cfr=1
Get mortgage loans for investment property:
RidgeLendingGroup.com or call 855-74-RIDGE 
or e-mail: info@RidgeLendingGroup.com
JWB's available Florida income property:
www.jwbrealestate.com/gre or (904) 677-6777
To learn more about eQRPs: text "GRE" to 307-213-3475 or:
Available Central Florida new-build income properties:
Analyze your RE portfolio at: (use code "GRE"):
Best Financial Education:
Get our free, wealth-building "Don't Quit Your Daydream Letter":
www.GetRichEducation.com/Letter
Our YouTube Channel:
www.youtube.com/c/GetRichEducation
Top Properties & Providers:
Follow us on Instagram:
Keith's personal Instagram:
You're listening to the show that has created more financial freedom for busy people than nearly any show in the world.
Wealthy people's money either starts out or ends up in real estate. You need to become an investor, but you can't lose your time. Without being a landlord or flipper, you learn about strategic passive real estate investing to create generational wealth.
Become educated about real estate investing with GRE's 1-hour video course: Real Estate Pays 5 Ways.