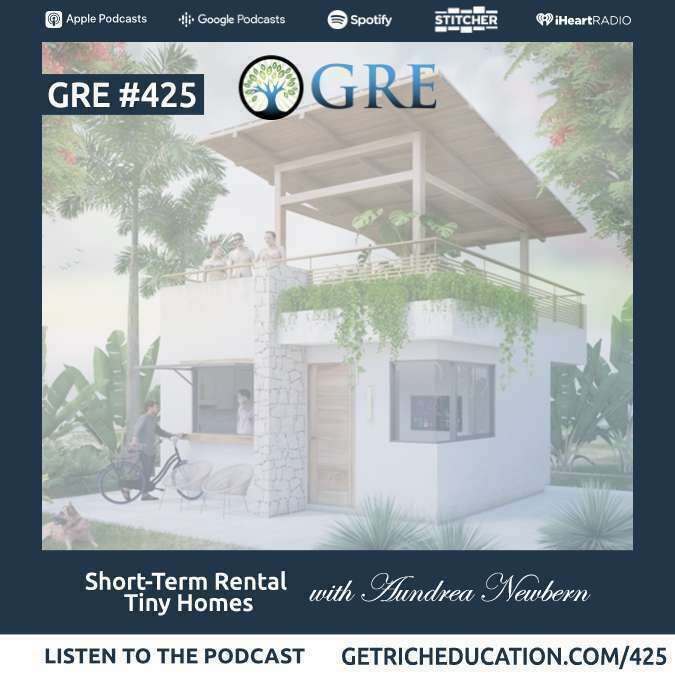 Get an update on how the work-from-home trend is good for residential RE and bad for office RE. 
Office space values are down 17.5% from their recent peak.
Americans must now earn at least $107,281 to afford the monthly mortgage payment on a median-priced home.
The NAR expects 10% home price appreciation this year, 1% in 2023, and 5% in 2024.
The tiny home movement is both architectural and structural. It's defined as a home of 400 sf or less.
Tiny homes are hard to find. In the US today, just 0.3% of listed homes are tiny homes.
You can own a new-build tropical tiny home near the beach in Nicaragua for under $200K.
Our own COO, Aundrea, bought one. She tells us about it.
It's on Nicaragua's west coast. It's not just an isolated tiny home experience. 
There's a community with a: restaurant, bar, bird watching area, butterfly garden, viewing tower, yoga area, and communal garden. 
Often, loans aren't available for foreigners. Here, you can get 50% or 80% loans.
You can live in this tropical tiny home year-round, or keep it as a short-term rental. The provider can manage your rental.
Resources mentioned:
Show Notes:
Get started with tropical tiny homes at:
Get mortgage loans for investment property:
RidgeLendingGroup.com or call 855-74-RIDGE 
or e-mail: info@RidgeLendingGroup.com
JWB's available Florida income property:
www.jwbrealestate.com/gre or (904) 677-6777
To learn more about eQRPs: text "GRE" to 307-213-3475 or:
Analyze your RE portfolio at (use code "GRE" for 10% off):
Memphis property that cash flows from Day 1:
I'd be grateful if you search "how to leave an Apple Podcasts review" and do this for the show.
Best Financial Education:
Get our wealth-building newsletter free—text 'GRE' to 66866
Our YouTube Channel:
www.youtube.com/c/GetRichEducation
Top Properties & Providers:
Follow us on Instagram:
Keith's personal Instagram:
You're listening to the show that has created more financial freedom for busy people than nearly any show in the world.
Wealthy people's money either starts out or ends up in real estate. You need to become an investor, but you can't lose your time. Without being a landlord or flipper, you learn about strategic passive real estate investing to create generational wealth.
Become educated about real estate investing with GRE's 1-hour video course: Real Estate Pays 5 Ways.