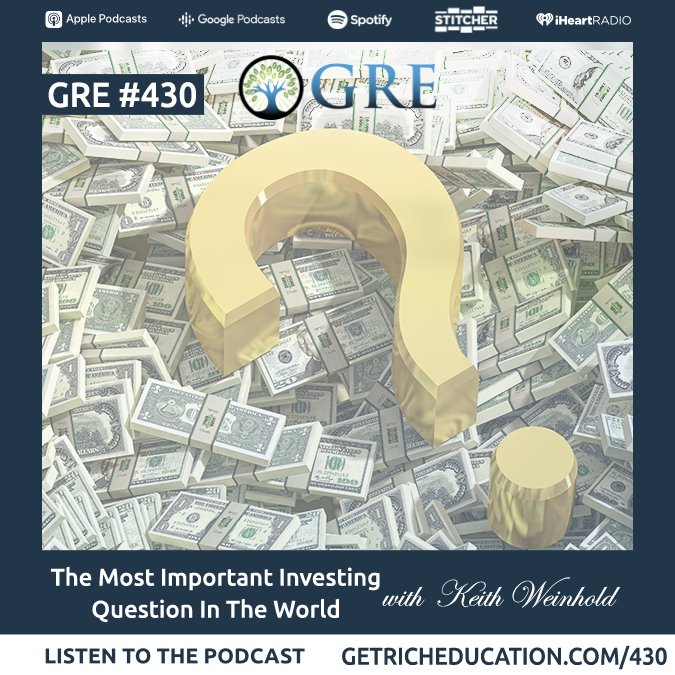 Answer this one question and you won't have money concerns for the rest of your life.
The Dow Jones once fell so hard that it didn't recover for 25 years
Japan's NIKKEI peaked in 1989 and still has not recovered.
I discuss the differences between an economic recession and depression.
During the 2008 housing crisis, national housing values only fell 19%. 
Originally, 401(k)s were called "Salary Reduction Plans". They had to scrap the name to foster participation.
Some investing questions are:
How do I max out my 401(k)?
How can I attend my dream college?
How can I become a millionaire?
After building context, I reveal the most important question in the investing world.
Learn how to keep emotions separate from investing.
The vital question is: "Will this property secure an income stream?"
Resources mentioned:
Show Notes:
National Median Home Prices:
https://fred.stlouisfed.org/series/MSPUS
Get mortgage loans for investment property:
RidgeLendingGroup.com or call 855-74-RIDGE 
or e-mail: info@RidgeLendingGroup.com
Analyze your RE portfolio at (use code "GRE" for 10% off):
Memphis property that cash flows from Day 1:
I'd be grateful if you search "how to leave an Apple Podcasts review" and do this for the show.
Top Properties & Providers:
Best Financial Education:
Get our wealth-building newsletter free—text 'GRE' to 66866
Our YouTube Channel:
www.youtube.com/c/GetRichEducation
Follow us on Instagram:
Keith's personal Instagram:
You're listening to the show that has created more financial freedom for busy people than nearly any show in the world.
Wealthy people's money either starts out or ends up in real estate. You need to become an investor, but you can't lose your time. Without being a landlord or flipper, you learn about strategic passive real estate investing to create generational wealth.
Become educated about real estate investing with GRE's 1-hour video course: Real Estate Pays 5 Ways.