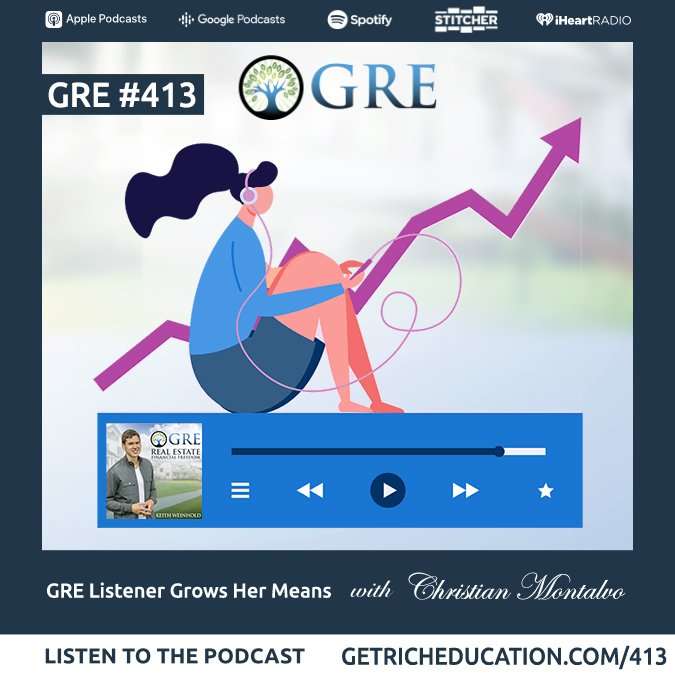 A GRE listener since 2015, Christian Montalvo and her family are growing their real estate portfolio in the Dallas-Fort Worth area.
She has been a food microbiologist. Christian works for a company that cleans food processing plants. Her husband is a W-2 employee too, a financial analyst.
After being a renter for about $1,000 / month in a tiny DFW apartment, they began with buying a $200K owner-occupied duplex with a 3.5% down payment.
Next, they bought a fourplex. At this point, they have five rent incomes. They kept growing.
Today, she and her husband still work their W-2 jobs. But as a young, married couple, they now have the flexibility such that they don't both have to work.
We discuss if they invest in 401(k)s and conventional retirement plans.
I give many examples of "growing your means" instead of "living below your means".
Last year, Christian became a real estate agent. She works with investor clients.
 Resources mentioned:
Show Notes:
Christian Montalvo's e-mail address:
christian@fraserrealty.com
Get mortgage loans for investment property:
RidgeLendingGroup.com or call 855-74-RIDGE 
or e-mail: info@RidgeLendingGroup.com
JWB's available Florida income property:
www.jwbrealestate.com/gre or (904) 677-6777
To learn more about eQRPs: text "GRE" to 307-213-3475 or:
Available Central Florida new-build income properties:
Analyze your RE portfolio at (use code "GRE" for 10% off):
Best Financial Education:
Get our free, wealth-building "Don't Quit Your Daydream Letter":
www.GetRichEducation.com/Letter
Our YouTube Channel:
www.youtube.com/c/GetRichEducation
Top Properties & Providers:
Follow us on Instagram:
Keith's personal Instagram:
You're listening to the show that has created more financial freedom for busy people than nearly any show in the world.
Wealthy people's money either starts out or ends up in real estate. You need to become an investor, but you can't lose your time. Without being a landlord or flipper, you learn about strategic passive real estate investing to create generational wealth.
Become educated about real estate investing with GRE's 1-hour video course: Real Estate Pays 5 Ways.