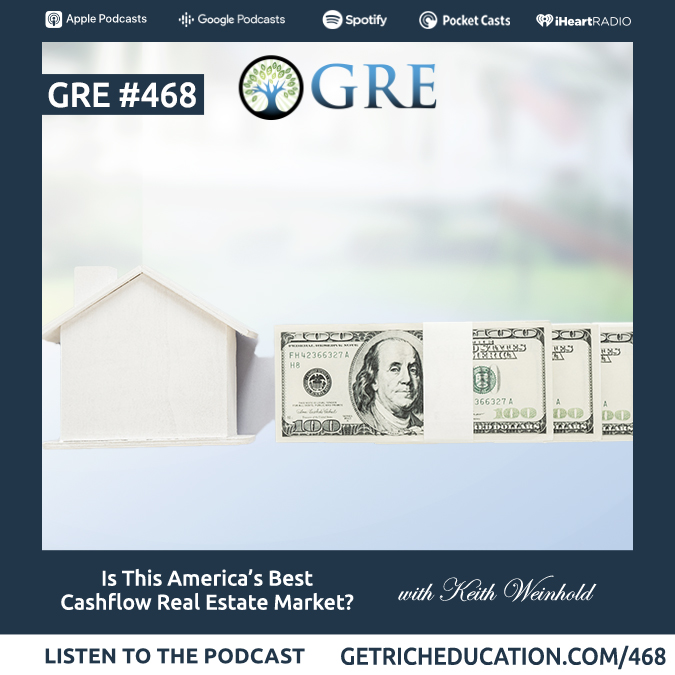 With skyrocketing property insurance costs, more homeowners are skipping insurance altogether. That proportion is estimated at 12% per the WSJ.
Single-family rents are up 6.5% annually.
Next, we discuss what might be America's best cash flowing real estate market.
Home prices are up this year for four main reasons: large Millennial demand, scarce supply, mostly healthy economy, interest rate levels that are actually normal.
As we discuss one of America's best cash flowing markets, it's in a state that has strong legal protections for landlords.
The cost of living there is 17% below the national average. Unemployment is 2%, according to the provider.
Single-family rents are $1,200 to $1,500; prices are $115,000 to $140,000. 
You can own a freshly renovated property, complete with granite countertops. Average tenant duration is 3-4 years.
With higher interest rates, more buyers in this market are paying all-cash or making a larger down payment.
Contact your GRE Investment Coach, a free service, if you consider purchasing property in this investor-advantaged market.
Resources mentioned:
Show Notes:
Get access to Little Rock properties:
If you'd like help with one of 
GRE's Investment Coaches (free), start here:
Get mortgage loans for investment property:
RidgeLendingGroup.com or call 855-74-RIDGE 
or e-mail: info@RidgeLendingGroup.com
Invest with Freedom Family Investments. You get paid first: Text 'FAMILY' to 66866
Will you please leave a review for the show? I'd be grateful. Search "how to leave an Apple Podcasts review" 
Top Properties & Providers:
GRE Free Investment Coaching:
Best Financial Education:
Get our wealth-building newsletter free—
text 'GRE' to 66866
Our YouTube Channel:
www.youtube.com/c/GetRichEducation
Follow us on Instagram:
Keith's personal Instagram:
You're listening to the show that has created more financial freedom for busy people than nearly any show in the world.
Wealthy people's money either starts out or ends up in real estate. You need to become an investor, but you can't lose your time. Without being a landlord or flipper, you learn about strategic passive real estate investing to create generational wealth.
Become educated about real estate investing with GRE's 1-hour video course: Real Estate Pays 5 Ways.