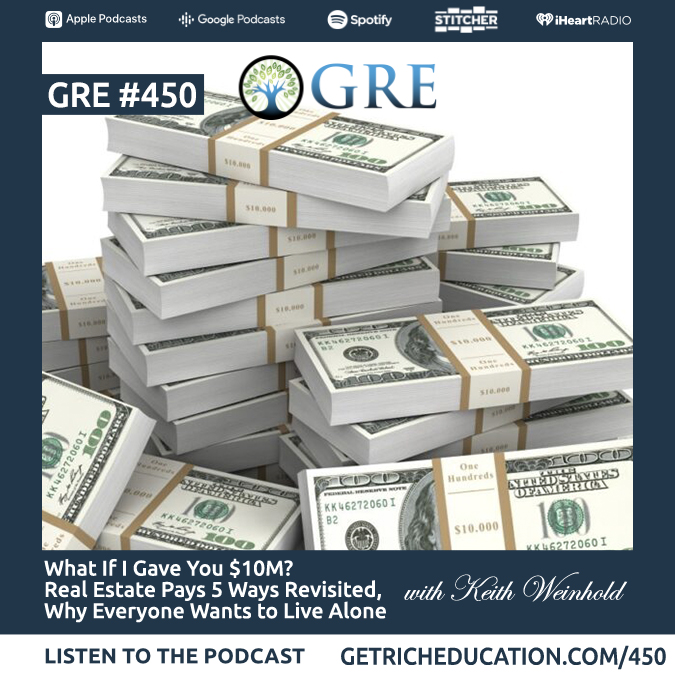 Get a 4.75% mortgage rate or 100% financing on new-build Florida income property. Start here.
If I gave you $10M, learn why that probably wouldn't even help you.
We revisit how "Real Estate Pays 5 Ways", a concept that I coined right here on the show in May 2015.
Some think real estate pays three, four, or six ways. I revisit why there are exactly five.
Real estate has many paradoxical relationships. I explore.
Americans are living in homes longer than ever, now a duration of 10 years, 8 months.
The active supply of available housing dropped again.
Get an update on the gambling industry. A major sports gambling platform has offered to advertise with us.
Take my free real estate video course right here. 
Zillow expects US home values to rise 4.8% from April 2023 to April 2024. 
Months of available housing supply is currently 2.7 per Redfin.
Resources mentioned:
Show Notes:
Active Supply of Available Homes:
https://fred.stlouisfed.org/series/ACTLISCOUUS
Get mortgage loans for investment property:
RidgeLendingGroup.com or call 855-74-RIDGE 
or e-mail: info@RidgeLendingGroup.com
Find cash-flowing Jacksonville property at:
Invest with Freedom Family Investments. You get paid first: Text 'FAMILY' to 66866
Will you please leave a review for the show? I'd be grateful. Search "how to leave an Apple Podcasts review" 
Top Properties & Providers:
Best Financial Education:
Get our wealth-building newsletter free—text 'GRE' to 66866
Our YouTube Channel:
www.youtube.com/c/GetRichEducation
Follow us on Instagram:
Keith's personal Instagram:
You're listening to the show that has created more financial freedom for busy people than nearly any show in the world.
Wealthy people's money either starts out or ends up in real estate. You need to become an investor, but you can't lose your time. Without being a landlord or flipper, you learn about strategic passive real estate investing to create generational wealth.
Become educated about real estate investing with GRE's 1-hour video course: Real Estate Pays 5 Ways.