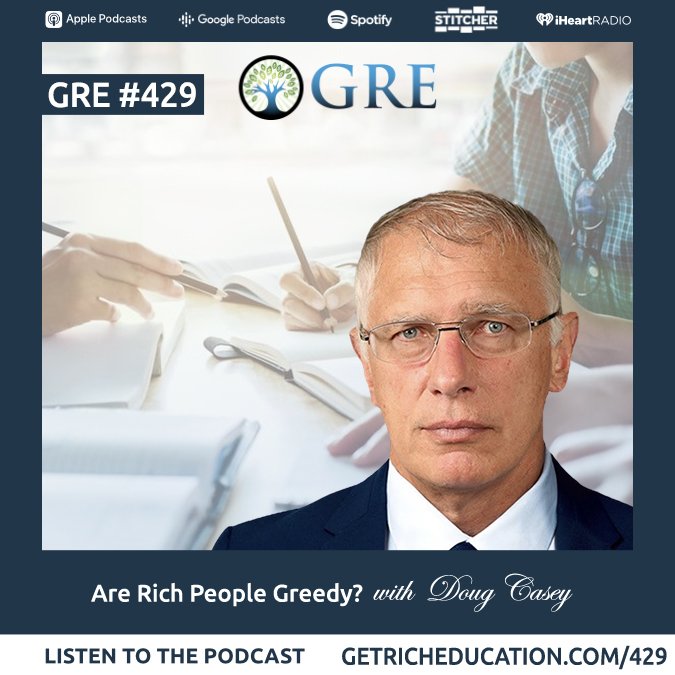 Greed is defined as an "intense and selfish desire for something, especially wealth, power, or food". 
Should wealth be redistributed so that everyone is equal?
"I have never understood why it is "greed" to want to keep the money you have earned but not greed to want to take somebody else's money." -Thomas Sowell
When I was a fresh college graduate, I resented the rich. I discuss the catharsis that made me change my mind.
Our guest, Doug Casey, believes that college reinforces the wrong wealth mindsets.
Today, one often hears that one should "pay their fair share" of tax. What does this really mean?
If one obtains wealth with integrity, that wealthy person makes everyone else wealthy. I give the example of Jeff Bezos and Amazon.
Learn why Doug believes that Social Security is a redistribution scam.
Resources mentioned:
Show Notes:
Learn more about Doug Casey:
His YouTube show is: Doug Casey's Take
Get mortgage loans for investment property:
RidgeLendingGroup.com or call 855-74-RIDGE 
or e-mail: info@RidgeLendingGroup.com
JWB's available Florida income property:
www.jwbrealestate.com/gre or (904) 677-6777
To learn more about eQRPs: text "GRE" to 307-213-3475 or:
Analyze your RE portfolio at (use code "GRE" for 10% off):
Memphis property that cash flows from Day 1:
I'd be grateful if you search "how to leave an Apple Podcasts review" and do this for the show.
Best Financial Education:
Get our wealth-building newsletter free—text 'GRE' to 66866
Our YouTube Channel:
www.youtube.com/c/GetRichEducation
Top Properties & Providers:
Follow us on Instagram:
Keith's personal Instagram:
You're listening to the show that has created more financial freedom for busy people than nearly any show in the world.
Wealthy people's money either starts out or ends up in real estate. You need to become an investor, but you can't lose your time. Without being a landlord or flipper, you learn about strategic passive real estate investing to create generational wealth.
Become educated about real estate investing with GRE's 1-hour video course: Real Estate Pays 5 Ways.