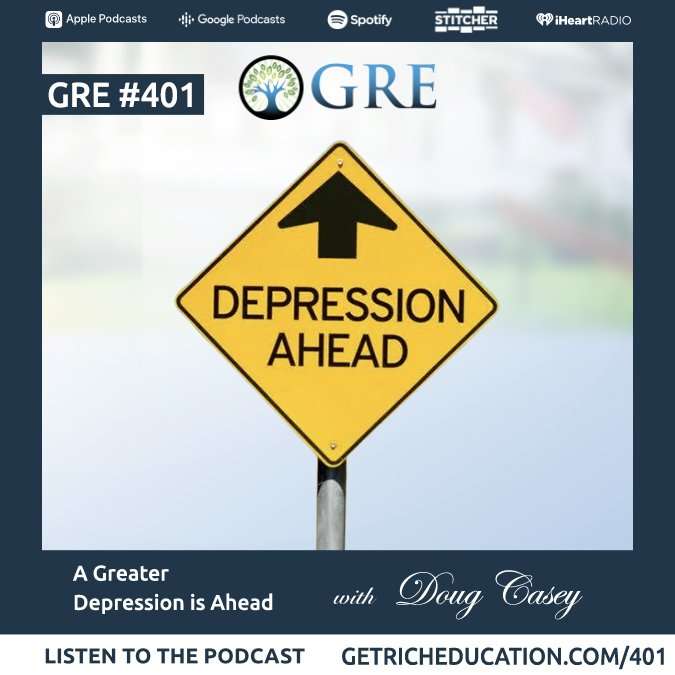 Mortgage delinquencies have fallen for seven straight quarters. The forbearance program kept people in their homes.
"The Great Reshuffling" describes the US housing market since 2020.
Inflation flips money upside-down. Focus on prudent borrowing, not saving.
International Man Doug Casey joins us. He calls for a "Greater Depression" ahead.
For consumers, the costs of energy, food, and housing have become crippling. 
Doug thinks that the decline of world economies will continue. World cities have more people living on the streets. 
He thinks that the Fed can't hike rates very high. It will result in too many debt defaults. Then how will inflation be curbed?
Doug thinks you should save, but don't save in dollars.
Are price controls coming? That's when the government tells companies that there's a ceiling on the price they can charge for their goods and services.
We discuss what you can do to prevent being wiped out in a crisis.
I discuss living well vs. austerity.
Show Notes:
More on Doug Casey:
Current US debt level is over $30T:
Get mortgage loans for investment property:
RidgeLendingGroup.com or call 877-74-RIDGE
JWB's available Florida income property:
To learn more about eQRPs: text "GRE" to 307-213-3475 or:
By texting "GRE" to 307-213-3475 and opting in, you will receive periodic marketing messages from eQRP Co. Message & data rates may apply. Reply "STOP" to cancel.
Make passive income with apartment and other syndications:
Best Financial Education:
Get our free, wealth-building "Don't Quit Your Daydream Letter":
www.GetRichEducation.com/Letter
Our YouTube Channel:
www.youtube.com/c/GetRichEducation
Top Properties & Providers:
Follow us on Instagram:
Keith's personal Instagram:
You're listening to the show that has created more financial freedom for busy people than nearly any show in the world.
Wealthy people's money either starts out or ends up in real estate. You need to become an investor, but you can't lose your time. Without being a landlord or flipper, you learn about strategic passive real estate investing to create generational wealth.
Become educated about real estate investing with GRE's 1-hour video course: Real Estate Pays 5 Ways.