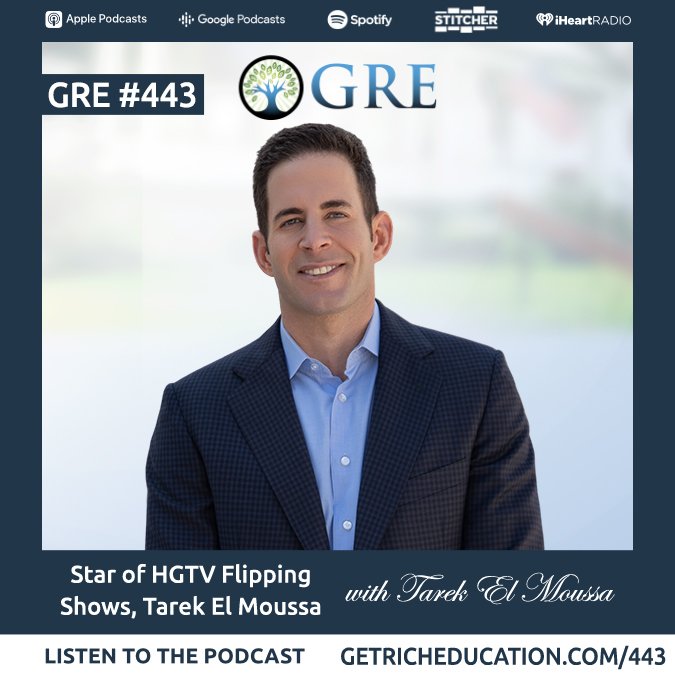 HGTV Star, Tarek El Moussa joins me today. Incredibly, he got into TV with no experience and no contacts. What a story!
Apartment and multifamily construction is staying heightened. Conversely, few new single-family homes are being built.
We're now hiring at GRE.
Tarek hustles. His life took a turn when he attended a motivational Tom Ferry real estate seminar.
To flip a property, he began to identify distressed properties with expired listings. Today, he tells us why he actually targets pending listings for acquisitions.
When he got a show with HGTV, Tarek was only doing his first-ever flip. He also didn't have the money to acquire distressed property for flips.
Tarek didn't even know how to flip! But HGTV immediately wanted him to flip 13 houses in 10 months.
Tarek is best at finding and negotiating deals. He outsources other tasks.
He chose contractors that specialize in fix & flip renovations. 
Tarek discovers them by looking at rehabbed property listings, calling the sales agent, and asking for the contractor's name.
Long-term, we discuss being an active flipper vs. passive real estate investor.
Today, Tarek and his wife star in HGTV's "The Flipping El Moussas". 
He also has a: real estate syndication, solar company, flipping summit, flipping course, and more. 
You're listening to the show that has created more financial freedom for busy people than nearly any show in the world.
Wealthy people's money either starts out or ends up in real estate. You need to become an investor, but you can't lose your time. Without being a landlord or flipper, you learn about strategic passive real estate investing to create generational wealth.
Become educated about real estate investing with GRE's 1-hour video course: Real Estate Pays 5 Ways.