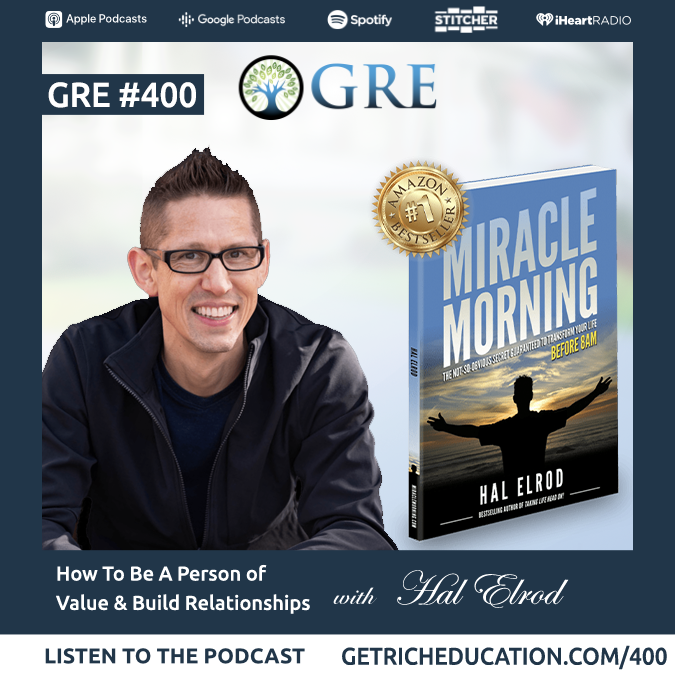 You often relate to other people when you show yourself as vulnerable and fallible. In many contexts, this is even better than acting professionally.
Today's guest, "Miracle Morning" author Hal Elrod, tells us that people spend too much effort trying to impress others.
When you give the most, it's liberating.
"You SHOULD care about what others think of you. That's your reputation." -Keith Weinhold
Once, Hal e-mailed friends, ex-girlfriends and colleagues to seek criticism about himself. That feedback hurt.
Everyone wants change, but no one wants to change.
Generosity, selflessness, and contribution foster meaningful relationships.
I share that viewers were recently critical of my YouTube video. Hal admits that he believes that he's not a great listener.
Hal strives to add value to every single person that he meets.
Aundrea Newbern, GRE Operations Lead, joins us for milestone Episode 400. 
Show Notes:
Hal Elrod's books and movie:
Hal's friend John Ruhlin's book "Giftology":
Get mortgage loans for investment property:
RidgeLendingGroup.com or call 877-74-RIDGE
JWB's available Florida income property:
To learn more about eQRPs: text "GRE" to 307-213-3475 or:
By texting "GRE" to 307-213-3475 and opting in, you will receive periodic marketing messages from eQRP Co. Message & data rates may apply. Reply "STOP" to cancel.
Make passive income with apartment and other syndications:
Best Financial Education:
Get our free, wealth-building "Don't Quit Your Daydream Letter":
www.GetRichEducation.com/Letter
Our YouTube Channel:
www.youtube.com/c/GetRichEducation
Top Properties & Providers:
Follow us on Instagram:
Keith's personal Instagram:
You're listening to the show that has created more financial freedom for busy people than nearly any show in the world.
Wealthy people's money either starts out or ends up in real estate. You need to become an investor, but you can't lose your time. Without being a landlord or flipper, you learn about strategic passive real estate investing to create generational wealth.
Become educated about real estate investing with GRE's 1-hour video course: Real Estate Pays 5 Ways.