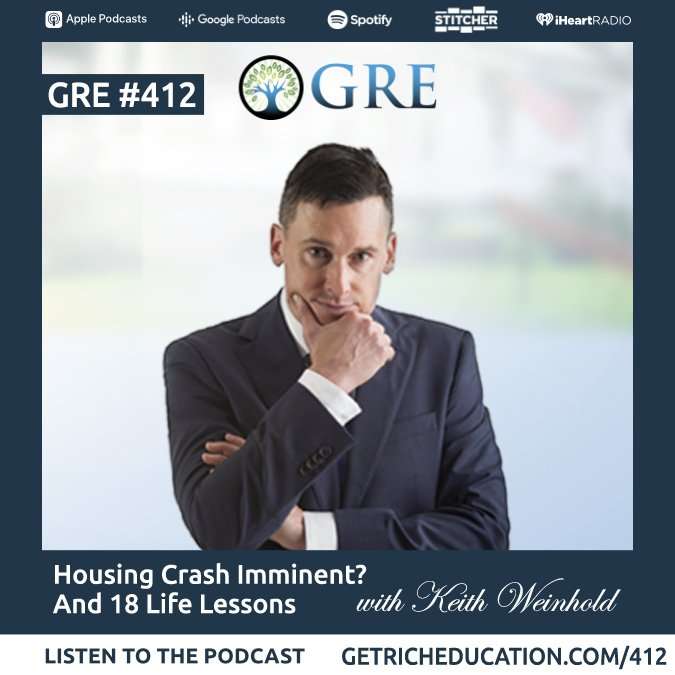 "How long are you going to wait until you demand the best from yourself?" -Epictetus
I share 18 lessons with my 18-year-old self. 
#2 is: Don't fear being different. That's your advantage.
#4 is: No one cares about your college grades.
#14 is: Finding the truth is more important than being right.
#17 is: What does life want from you?
National median home prices eased from June to July—from $414K to $404K. 
Homebuilders are in a recession.
However, available housing supply is still low and demand is high.
Almost every human is forgotten in four generations.
Is a housing price crash imminent? You get a clear "yes" or "no" answer.
The NAR says that today's first-time homebuyer is: 33 years old (oldest ever), $86,500 household income, $252K median purchase price, 7% down payment, and 37% carry student debt. Average size is 1,640 sf.
If you'd like to advertise with us, visit: GetRichEducation.com/Contact
You're listening to the show that has created more financial freedom for busy people than nearly any show in the world.
Wealthy people's money either starts out or ends up in real estate. You need to become an investor, but you can't lose your time. Without being a landlord or flipper, you learn about strategic passive real estate investing to create generational wealth.
Become educated about real estate investing with GRE's 1-hour video course: Real Estate Pays 5 Ways.