What are renters doing?
They're paying more and staying longer.
Let's look at both the single-family rental (SFR) and apartment markets. The apartment market tends to have more data.
CoreLogic reflects SFR rents up 8.8% year-over-year. Zumper's National Rent Report shows apartment rents up 8-9% annually, depending on type. As terrific as this is, it's actually slowed from its peak.
It's interesting.
Real estate is already known for having stable values, buoyant against big drops.
But that's nothing compared to the resilience of rents.
Getting market forces to make rents fall is a harder job than Microsoft trying to get you to use Bing.
Anecdotally, I remember this from renting out my modest fourplex units back in 2009.
It was the height of The Great Recession and mortgage meltdown.
Back then, I had just eight rental units (two fourplexes) and I self-managed.
I had a vacancy. A prospective tenant couple toured my unit.
Then they tried to aggressively negotiate my asking rent from $1,295 down to $1,200.
Aware of the financial crisis, they said, "You need to discount your units. Don't you know what's happening with the housing market?"
I replied, "That's the for-sale market. Mortgage companies aren't providing home loans now. It's increasing my rental demand."
I stayed firm and got my price from another couple.
Housing is non-discretionary. People can't sit it out. If people don't like the price of beef, they can eat pork or chicken.
But everyone needs to live somewhere.
Sure enough, later I'd learn that nationally, rents only fell 2% to 5% during that period (source). They held up even better in the Midwest and South.
That's back when seemingly everything went wrong for housing!
Let's fast forward to this era. With last year's increased mortgage rates, more renters of all types chose to stay in-place.
Real estate data is known for its lag time. But we've already got the complete 2022 tenant retention numbers.
Other than 2021, apartment unit retention was the highest in the past ten years. SFR retention is even higher.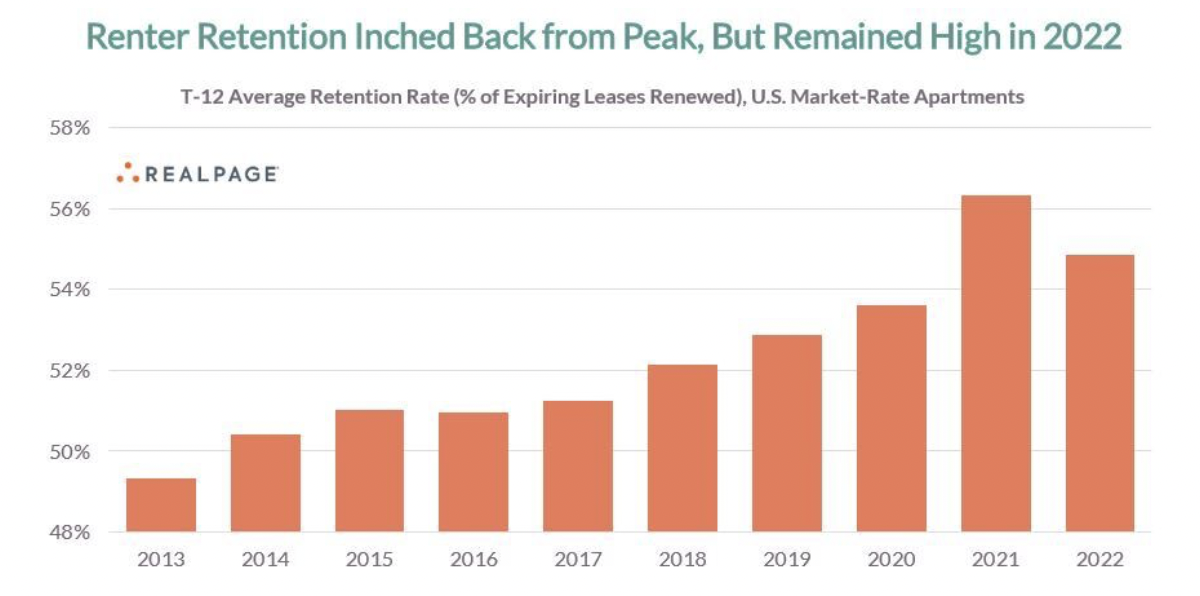 Hey, for a guy like me that would raise a toast to government data on a Saturday night, this is great stuff.
Yes, I wrote "would raise".
Of course, that's because I stayed home Saturday night.
Thought getting your money to work for you creates wealth? It doesn't! That's a myth. My one-hour investing video course is now 100% free: Real Estate Pays 5 Ways. For a limited time, you can learn how wealth is really created, here.