On the heels of the latest investing industry fraud, I'm still marveling at how closely the name of FTX's disgraced Sam Bankman-Fried resembles Scam Bankrupt-Fraud.
Housing price predictions are below.
Though everyone needs a place to live, fewer and fewer people need to leave home for an office.
Commercial real estate is strictly about numbers.
To offset higher real estate prices and interest rates, rental and occupancy rates must move higher.
This is an impossible scenario for office buildings. Office prices must fall in order to get deals done.
According to Green Street's commercial property price index, offices have seen a price drop of 17.5% from their recent peak. Many feel that they'll fall further.
JPMorgan, Citi, Goldman Sachs, and Twitter have all tried—often futilely—to get workers back into the office.
They've attempted indoor gardens, napping facilities, free pizza parties, and ping-pong.
Once workers get used their #wfh routine complete with a hooded sweatshirt, pajama pants, and house slippers, it's a hard habit to break.
Much of the world shifted to Zoom calls in 2020 and they aren't returning to the office.
Some people are still concerned with catching a virus.
Inflation plays a part too. Higher child care, gasoline, and food costs keep workers at home.
Then it's little wonder that JPMorgan recently announced plans to acquire more than $1B worth of single-family rentals.
That's where the smart money is going.
A typical US house is now unaffordable for Americans earning less than $100k.
According to Redfin, buyers last month needed a salary of at least $107,281 to afford the monthly mortgage payment on a median-priced home.
That's up nearly 46% from $73,668 a year ago.
There is the opportunity. Priced-out homebuyers increase rental demand.
Though 2021's torrid appreciation days are over, residential real estate values expect to hold up well in the next couple years.
In fact, as you can see below, the NAR expects 10% appreciation this year, 1% next year, and 5% in 2024: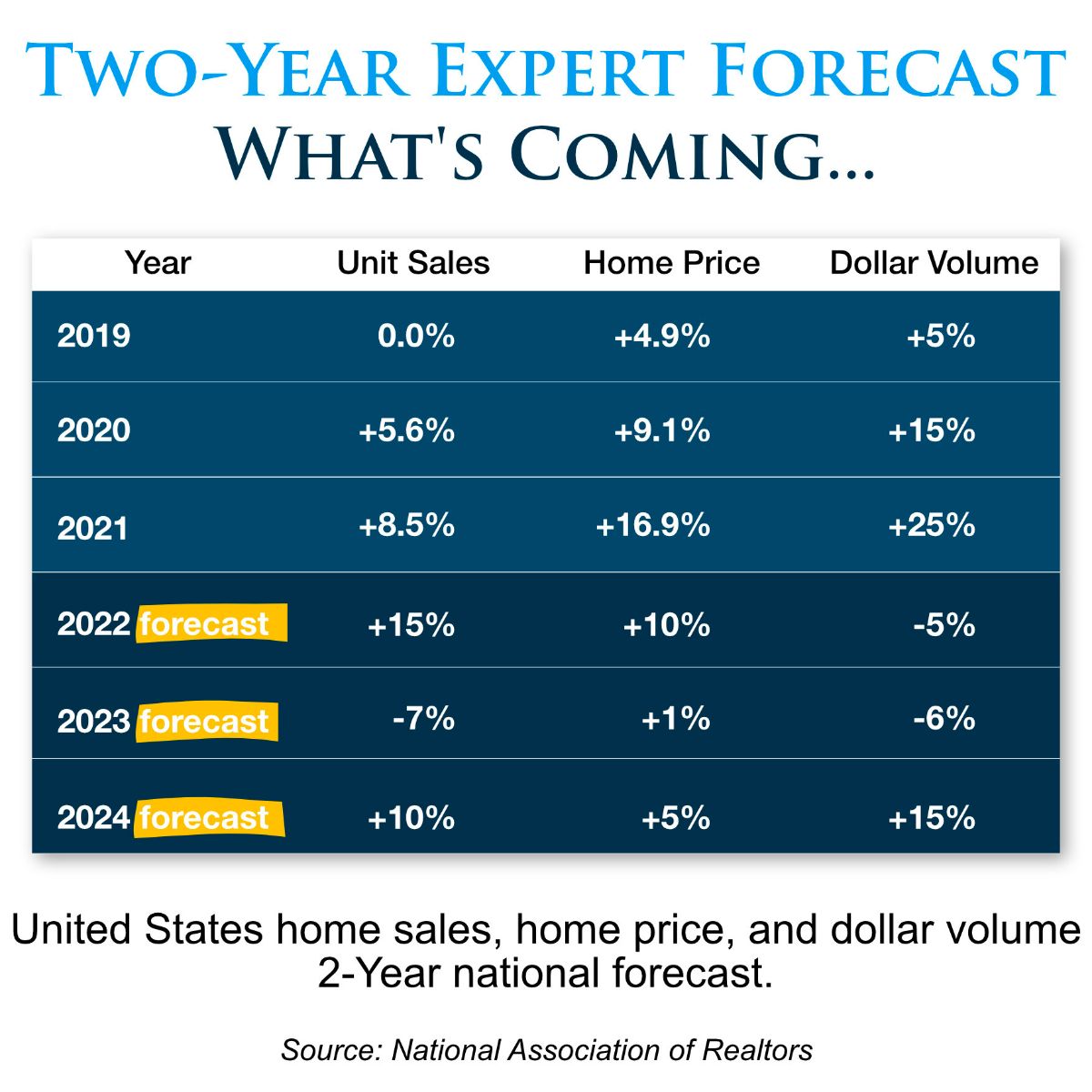 These future NAR numbers seem reasonable… or else I wouldn't have shared them with you.
Some prognosticators want to attract attention with "price crash" clickbait.
You might remember that on December 1, 2021, I released GRE's 2022 National Median Housing Price Forecast of +9% to +10% appreciation.
That was not so easy to do back then. Hindsight makes it seems easy.
Yogi Berra said: "It's tough to make predictions, especially about the future."
One year ago, the pandemic was still raging, supply chains were choking, the war in Ukraine hadn't even begun, and the Fed had not raised rates at all.
2021 was also when house prices soared nearly 20% and properties were harder to get than a Birkin bag.
Early next year, I'll let you know the result. +9% to +10% is holding up well so far.
As you sit down to enjoy Thanksgiving, the fact that you invest in steadyresidential real estate rather than Dogecoin will make your parents proud.
Be mindful that real Americans don't play Christmas music until after Thanksgiving.
In any case, I would like to give "thanks" for your devoted readership.
Thought getting your money to work for you creates wealth? It doesn't! That's a myth. My one-hour investing video course is now 100% free: Real Estate Pays 5 Ways. For a limited time, you can learn how wealth is really created, here.