In times of high inflation, what happens to rents?
The freshest annual CPI inflation number reported at 8.2% on October 13, 2022, exceeding expectations. 
The Producer Price Index soared too. Tracking wholesale prices, it's a more forward-looking inflation measure.
Consumer pocketbooks are being stretched.
Wouldn't high inflation mean that your tenant gets squeezed with higher prices for food, medical care, gas, electricity, airfares, and everything else, meaning that they have less money available for paying your rent?
Any other outcome could seem as unlikely as the rise of pickleball.
Once again, I like to look at history over hunches for the answer.
In this case, we have to go back 40+ years. That's when we last saw inflation at today's levels.
From 1974-1985, a period that included three separate economic downturns, rents increased 7% to 12% each year: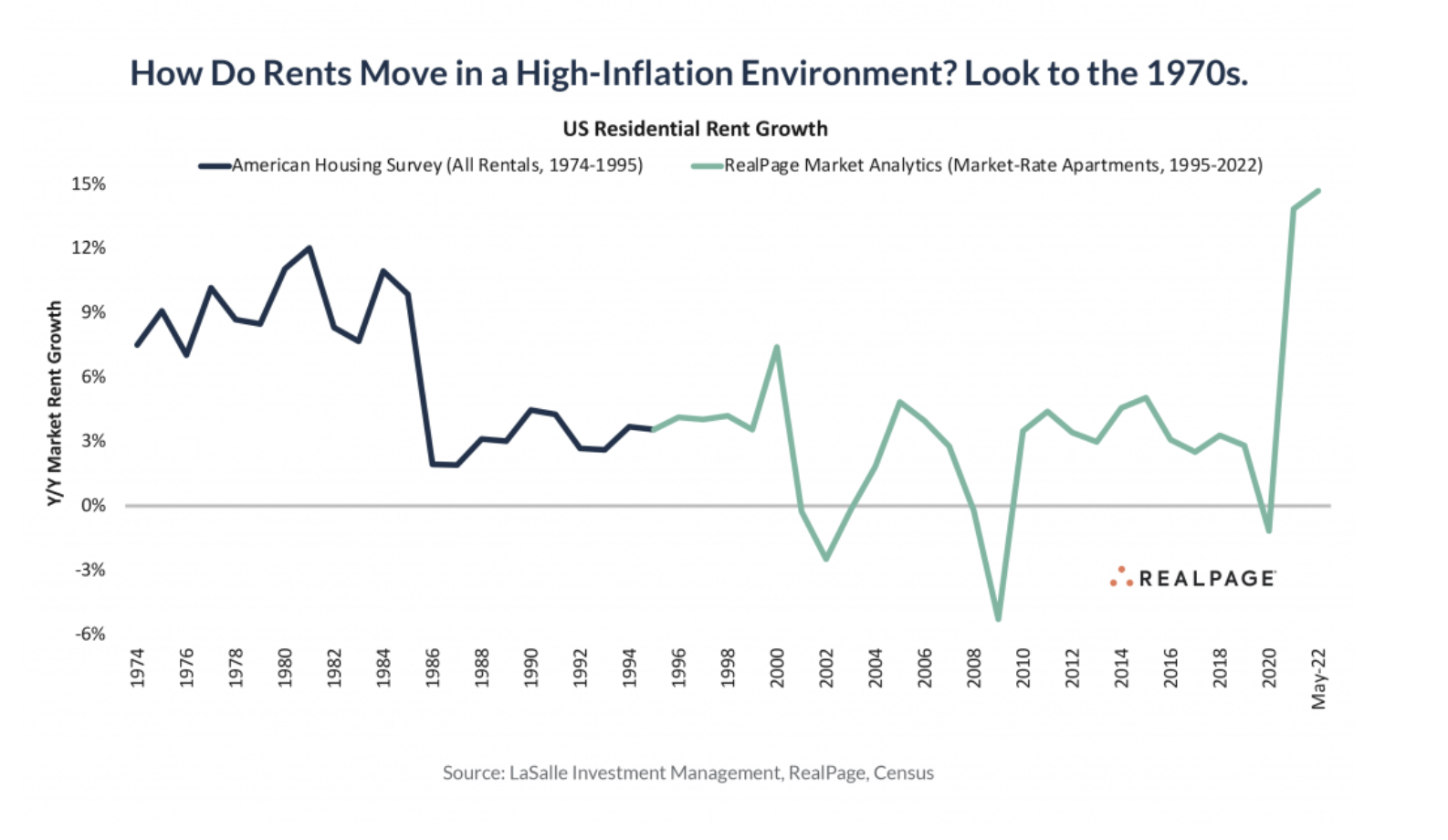 It's happening again today. But how? After all, American wage growth has only been 5%, lagging inflation and rent increases.
No, renters don't turn free Costco samples into dinner.
There are at least three reasons why rents keep rising despite high inflation and a possible recession.
1) Renters move down a class.
How will your tenant pay the rent if you hike it from $1,600 to $1,800?
Some move from Class A housing where they're paying $2,500 rent to Class B housing to pay $1,800 rent, or move from Class B to C.
2) More renters double up with roommates.
During COVID, the opposite occurred—a decoupling trend.
Doubling up might be limited this time around. The work-from-home trend is embedded in society, which means the need for more space.
3) Today's low housing supply effectively means renters are bidding up rents. In some markets, renters desperate for housing are even offering gifts to prospective landlords.
With all the media negativity about buying primary residences, more people keep renting.
______________
High inflation has been entrenched for more than a year now.
The result? Sure enough, the latest CoreLogic Single-Family Rent Index shows us that rents are up more than 12% annually.
Thought getting your money to work for you creates wealth? It doesn't! That's a myth. My one-hour investing video course is now 100% free: Real Estate Pays 5 Ways. For a limited time, you can learn how wealth is really created, here.