You want a strong investment return with as little of your own effort as possible.
Real estate investing has made more ordinary people wealthy than anything else.
In real estate investing, most people think about the property first. That's a mistake. That's backwards. Your property is only the fourth most important thing.
Then what matters? In order:
#1 You. What do you want most? Value appreciation, cash flow, tax benefits, or lifestyle investing?
#2 Market. This is the geographic market that supports your income stream. Your tenant needs a stable job to provide you with passive monthly income.
#3 Team. These are the professionals that you engage with like your property provider, agent, mortgage loan officer, and property manager.
#4 Property. If the first three don't work, then your property won't either.
We're not talking about your primary residence here. We're talking income property – property that you buy and rent out to someone else. Here, facts trump feelings.
On my recent real estate field trip to Dallas, I found that all four real estate investing "boxes" could be checked.
Why? So let's explore this.
#1 You. Most real estate investors want value appreciation, a monthly income stream, little effort, a viable market, a strong team, and a sound, freshly-renovated property.
#2 Market. Dallas-Fort Worth, TX (DFW) has matured and diversified far beyond the antiquated notion of a "one-legged stool" of oil industry support.
Dallas has a slew of Fortune 500 companies including: Exxon Mobil, AT&T, American Airlines Group, Tenet Healthcare, Southwest Airlines, Kimberly-Clark, Texas Instruments, Dean Foods, Jacobs Engineering, and is home to other notable companies like Comerica Bank, Frito-Lay, Chili's, Rolex, United Surgical Partners, and the list could fill an entire article!
DFW has the fourth-busiest passenger airport in the U.S. Many now dub Dallas as the "Financial Capital Of The South". Toyota is in the process of moving their headquarters to Plano.
With the Dallas-Fort Worth Metropolitan Statistical Area's (MSA) 2% population growth every year(!), more than 7 million people now call this home. It's grown so rapidly that it's now the fourth-largest MSA in the nation.
Why? Companies and families alike are being lured by business-friendly tax incentives, low cost of labor, low cost of living, tons of developable land, zero state income tax, and a centralized U.S. location. Economists and demographers expect this growth to continue.
Chances are, you know someone that's moved to Texas!
This economic juggernaut has made DFW one of the most stable real estate markets in the nation. In the latest year-over-year period, ending September 2016, Dallas property has appreciated 8.0% as measured by the Case-Shiller Home Price Index.
See the chart below.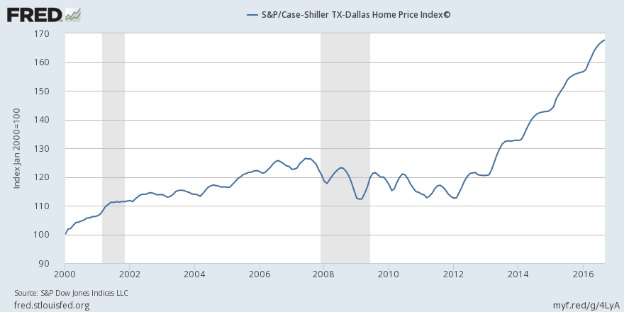 Dallas Business Journal reports that DFW housing prices have skyrocketed 43.3% over the past five years.
Though I don't personally expect this appreciation rate to persist indefinitely, I do expect more long-term appreciation for the same factors I've cited above.
As a full-time real estate investing educator and active practitioner, I travel nationally and internationally to analyze real estate markets.
In the entire nation, I cannot think of a safer real estate market to be invested in than DFW as we move toward 2020.
In fact, even during 2008-2009's Great Recession and Mortgage Meltdown where some metros experienced gut-wrenching price drops of 50-60%, DFW home price drops were far milder, because housing demand was simply too great.
#3 Team. No team member is more important than your turnkey real estate investing provider and property manager..
What's "turnkey" mean? This means that your provider identifies distressed property, purchases it all-cash, rehabilitates it, screens and places a tenant for you, and sells it to you.
You basically have first dibs on buying their quality "fix-and-flips." Turnkey is real estate investing all-done-for-you. You buy the property already rehabbed and tenanted.
With their extensive local market knowledge and management experience, they cater specifically to investors like you, not buyers that are looking for their primary residence.
The Dallas-based provider has a ton of management experience with good communication skill. They make transparency a priority.  They're even leaders in content creation, as their staff has recently produced both a book and an audio podcast.
A popular media journal even named the provider as 2016's "Turnkey Provider Of The Year."
#4 Property. How do you know the provider will find the right property that works for you as an investment?
They have strict buying criteria. They buy single-family property in DFW submarkets that are in good neighborhoods. Property must provide a high ratio of rent income to purchase price. (This is also called Rent-To-Value Ratio, or RV Ratio.)
Let's look at a typical property: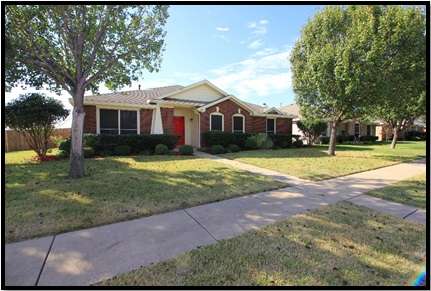 This 3 bed, 2 bath, 2001-built home rents for about $1,550, with a purchase price of $165,000. That's an RV ratio of close to 1% ($1,550 / $165,000).
1% RV ratio is a rough indicator that your monthly rent income should exceed your monthly expenses. What expenses?
Your expenses include: an 80% mortgage, property insurance, maintenance, property taxes, management and some inevitable vacancies between tenants.
What's left over each month is your cash flow. Yes, passive income! It means you're paid without work. Some people call this "mailbox money."
Compared to other geographic markets that I visit, this stock is:
The same distance or farther from the urban core.

Higher priced homes.

Higher rent incomes.

Higher property taxes.

Newer-built, better-looking brick homes.

Neighborhoods show a higher pride of ownership.

Properties are more likely to appreciate in value.
Want me to let you in on a little secret about which Dallas suburbs they're currently finding this select housing stock in? It includes Mesquite, Lancaster, and Seagoville. These areas are just south and east of Dallas.
Why there?
Well, in the inner city, tenant quality tends to be low. Even if your property is occupied, your rent might not even get paid. These properties are avoided.
Conversely, as you move north of the city to places like Frisco and McKinney, rent incomes only rise mildly in proportion to the much higher home prices that you'll have to pay. This means you pay more in property price but get less income. Again, this is avoided.
Well, once the right submarket has been located, what type of property improvements are made? Commonly it's new HVAC, new paint, new vinyl plank flooring, extensive kitchen rehabilitation, sometimes a new roof, and more.
You know what? You could actually identify, purchase, fix, and then hold the home yourself for income. Yep, you sure could DIY it all. But I suggest letting a professional do it.
With their network of contractors, local knowledge, and economies of scale, it's hard for a lone wolf to compete. Remember, we're here to invest, not find another job for ourselves!
It's also about making the right improvements for investors. What do I mean?
Well, for example, the provider knows that you don't want to have $10,000 tied up in luxury quartz countertops because a tenant typically only pays you an extra $25 or $50 a month for it. Not a great investment on your part!
In income property, you want to own improvements that provide things like: durability, quality, affordability, and functionality.
As soon as you try to make words like "luxury" or "opulence" happen, you start to lose. I've invested in income property myself since 2002, so I know: save that stuff for your own home.
So what's the real deal? What's really going on here?
Look, I suggest to most investors that they own property in 3-4 metro markets in order to be diversified. You might want to pick 2-3 "strong cash flow" markets, and 1-2 "strong appreciation potential" markets.
This is investing. There are no guarantees. But if you're looking for stable appreciation, I can't think of a better market than Dallas-Fort Worth.
If you want to participate in likely price appreciation and you live out of the area, I can't think of a smarter, easier way to do it than to buy "turnkey".
You'll find monthly cash flow stronger in markets other than this one. But if you do experience appreciation, a cash-out refinance effectively provides you with a lump sum of cash flow every few years.
My expectation? Prices will continue to rise in this market. Rent income will not keep up proportionally, straining your RV ratio and cash flow.
Buy now and you likely won't be hemorrhaging your personal cash flow each month. If you buy in a few years, your property could be negatively-geared (monthly expenses exceed income).
Investing involves risk. Do your own due diligence.
While we were driving around Dallas, I asked the provider's Managing Director what his company will do if they can only offer negatively-geared property to investors in a few years.
He replied: "We might have to move to a market that makes sense again."
Great answer. He puts the investor – you –  before himself.
In real estate investing, what matters, in order, is: You, Market, Team, then Property. You have to invest where the numbers make sense.
If you would like an introduction to the provider to learn more, just tell us at: www.GetRichEducation.com/Texas
Here's to your wealth and success!
Thought getting your money to work for you creates wealth? It doesn't! That's a myth. My international best-selling E-book is now 100% free, 7 Money Myths That Are Killing Your Wealth Potential. Get it here for a limited time.