You know, year in and year out, it can get pretty tiring to listen your local real estate agent put their spin on why "It's always a good time to buy."
No, it isn't.
The right agent is valuable, sure.
But I'm not geared to always cheerlead real estate.
In fact, in 2019, real estate's appreciation rate was only poking along at about 4%.
I said on the GRE Podcast then that: "In the near future, I don't see what's going to make real estate appreciate much more than this boring 4% rate."
Then the pandemic happened. It changed almost everything.
My outlook soon adjusted to informing the world as to why we could be in for a real estate boom.
(Some of my contemporaries falsely predicted a 2021 housing crash that did not occur.)
Today's price boom enjoys circumstances markedly different from the hollow housing price run-up that preceded the 2007-2010 national housing price crash.
I will outline 6 big reasons why I believe that today's housing prices are sustainable now and into the near future. If you'd like to see the video-version, it's here:
1. Affordability
This formula has three main components: home price, wages earned by the homebuyer, and mortgage rates.
Compared to the housing crash fifteen years ago, homes are more affordable today.
Really… how? Mortgage rates were 6%+ then and 4% now. Wages are higher. Homeowners' stock portfolios have surged.
However, affordability could decline if both home prices and mortgage rates keep rising.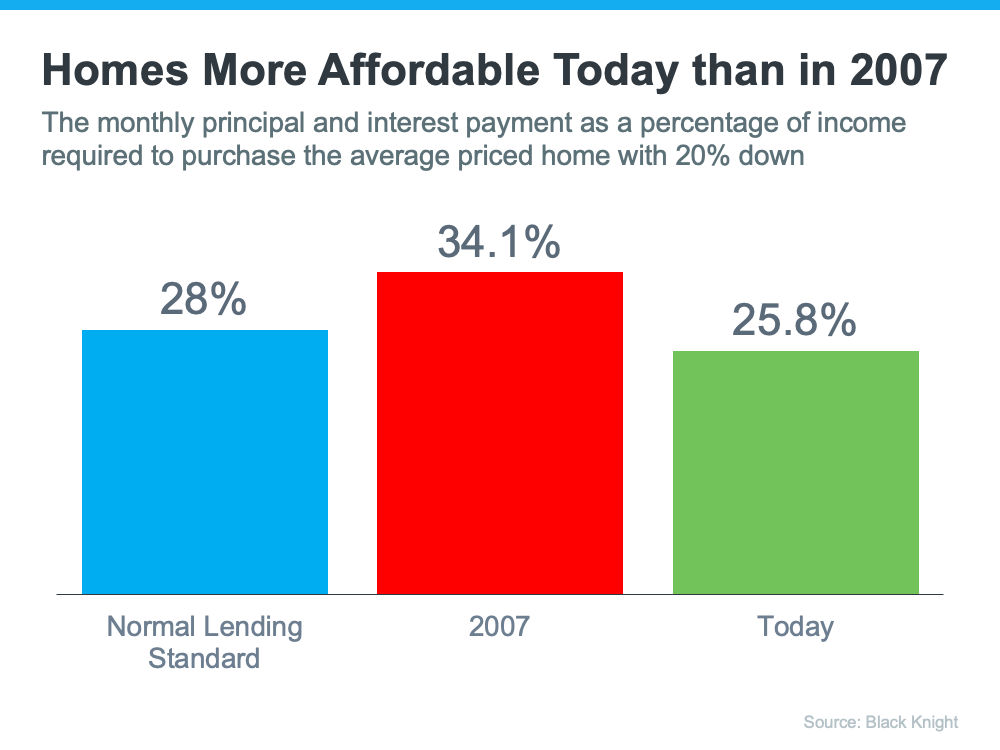 2. Lending Standards
Leading up to the 2007 housing crash, the Federal Reserve tells us that 5x as many borrowers with sub-620 credit scores got mortgages compared to 2021.
It was nuts!
Back then, you often didn't need a job, income, or assets in order to get a giant mortgage. It was absurd and unsustainable.
Today, borrowers need more assets, fewer delinquencies, and a lengthier credit history in order to qualify.
3. Equity
Homeowners are sitting on record home equity. If a financial challenge arises, they're motivated to meet it and protect that equity.
In an emergency, they can avoid a foreclosure or short sale.
This equity glut also means that move-up homebuyers can bowl over wannabe first-time homebuyers. This keeps the latter renting.
4. Utility
Utility means "usefulness".
Americans are more willing to spend a greater proportion of their income on housing now than they were in 2019.
Why?
Today, a home is also where you increasingly: work, exercise, home school, and perhaps even garden.
In twenty years, people could be wearing VR equipment and rarely leave their homes.
5. Foreclosures
They peaked at over 2 million in the crash year of 2009.
Back then, some in negative equity positions walked away from their homes. This led to a plethora of property listings at huge discounts, lowering the value of all area homes.
Prior to pandemic forbearance programs, there were about 1/4 million new foreclosures per year in 2018 and 2019.
Those in the 2020 and 2021 forbearance programs are rapidly dwindling. They're typically equity rich.
6. Supply
6 months worth is considered a "balanced market".
From 2007-2010, there was an average supply of 8.5 months of existing homes for sale—a glut.
A gradual underbuilding trend for several years meant that by 2018, supply plummeted to a paltry 3.7 months.
2019? 3.0.
2020? 1.8.
The end of last year? An astoundingly scarce 1.7 months. (Chart)
Now? 1.6 months. (Story)
A low supply of homes increases the number of bidders. This fuels bidding wars, putting more upward pressure on prices.
Shown another way, below is the active listing count of available homes. It also shows why I have stated that the American housing crash already happened.
It began in April 2020. That's when inventory failed to make its seasonal summer recovery. It was a supply crash, not a price crash.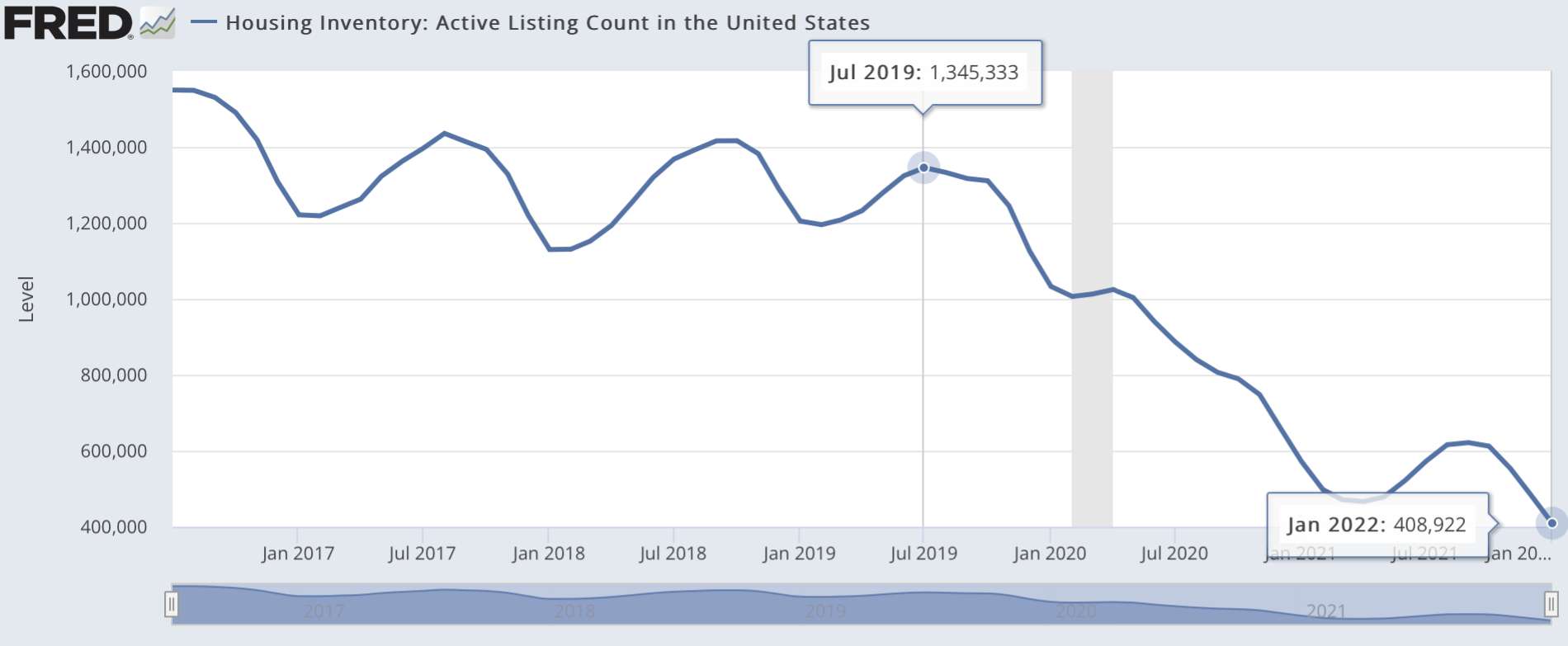 Over the past several months, stocks and crypto prices have sunk. Residential real estate keeps rising.
But you don't have to wear a monocle and puff smoke rings from a mahogany desk to afford income property today.
Connect with our providers in investor-advantaged markets for property that's typically under $250K at GREmarketplace.com.
Thought getting your money to work for you creates wealth? It doesn't! That's a myth. My one-hour investing video course is now 100% free: Real Estate Pays 5 Ways. For a limited time, you can learn how wealth is really created, here.